DSCSA Requirements and Implementation

: A Solutions Map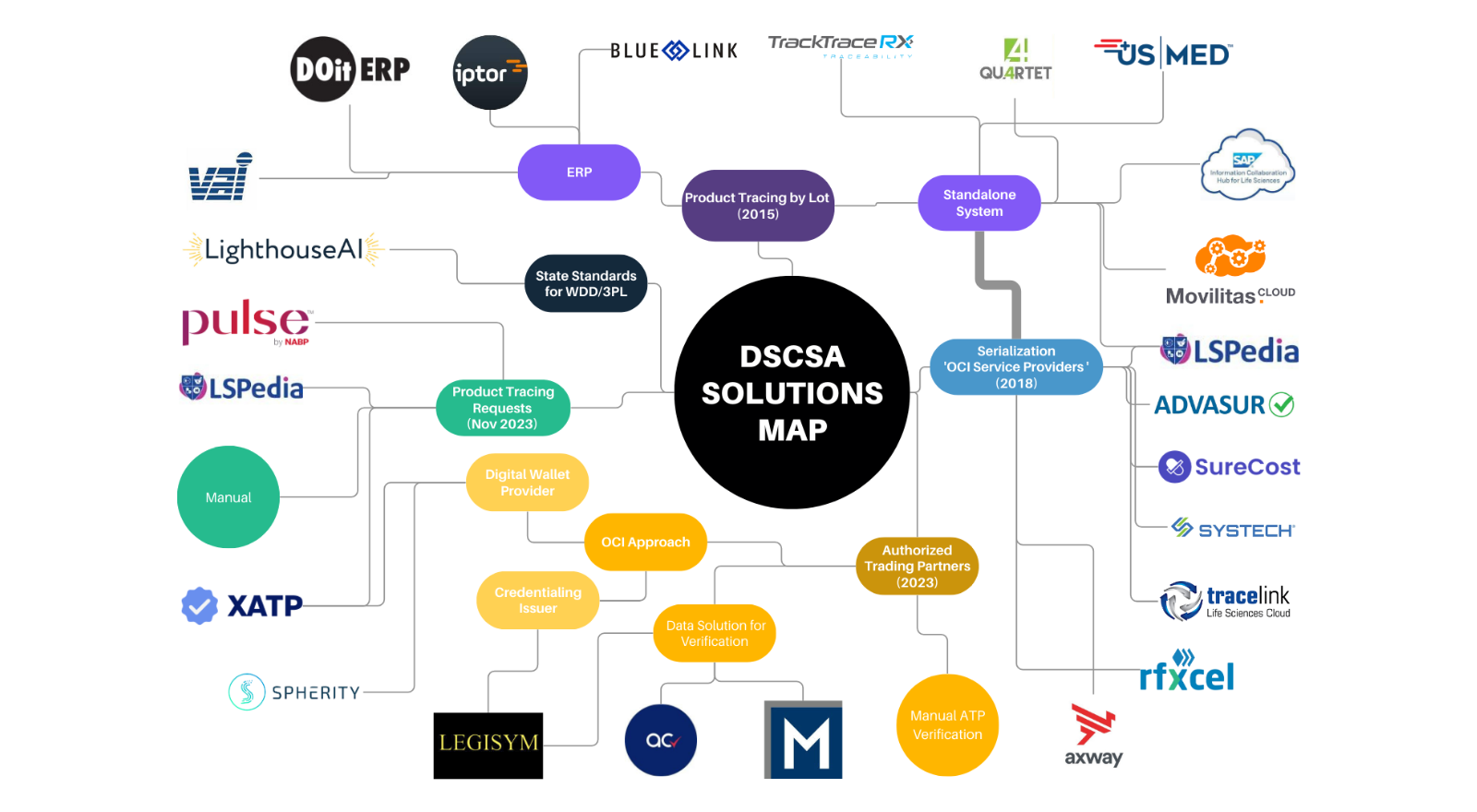 Written by: Sumeet Singh | CEO & Founder
Given the pending deadline of the DSCSA November 2023, here is a DSCSA Solutions Map brought to you by LighthouseAI! There are 5 key requirements that stem from the passing of the DSCSA. 
1. Product Tracing by Lot, also known as Track & Trace, T3, and Pedigree Requirement 
This requirement was implemented in January 2015 and sunsets in November 2023. Various solutions were developed and deployed over the past decade to solve this requirement, including ERP systems updating their inventory management modules, as well as standalone products designed to be integrated with ERP systems or manual data entry. 
2. Serialization, also known as Unit Product Identification  
For the first phase of the requirement, Manufacturers/Repackagers must include product identifiers (i.e. affixing 2D barcode) on saleable units packaged before Nov 2018 (grandfathering guidance). Distributors were to only engage in products with product identifiers as of Nov 2019, and Dispensers were to only engage in product with product identifiers starting Nov 2020. All entities within the supply chain are required to share serialized data electronically implements Nov 2023 (FDA recommends EPCIS or portals).  
Product Tracing at the package level is the second phase of the serialization requirement. 
Serial number and expiration data get added to the transaction information and data is to be shared through electronic interoperability by Nov 2023. 
3. Respond to Direct and Indirect Product Tracing Requests within 24 hours 
This requirement is to begin enforcement as of Nov 2023. Requests may come from trading partners, state agencies, or federal agencies. There are two options: either manual transmission (paper, phone, email, letter) or through a system integrated with NABP Pulse, such as LSPedia Investigator. 
4. Authorized Trading Partners 
This requirement was implemented in January 2015. ATP authentication has various solution approaches including manual, state license verification solutions, or credentialing solutions through OCI. 
5. FDA Regulation Standards for National Wholesaler/3PL Licensure 
This requirement is still in rulemaking, with the Proposed Rules being released in February 2022. Implementation by states is projected to take between 1 and 3 years. 
Learn more about LighthouseAI and how it helps meet national standards for DSCSA through AI-based technology and automation. Request a demo.
Huge thank you to Mark Karhoff, Ten Count Consulting, and Riya Cao, LSPediA, for lending their insights!