LighthouseAI Is Compliance Automation 
Amid escalating pharmaceutical supply chain regulations,
manufacturers, distributors, and 3PLs face mounting costs and non-compliance risks threatening revenue.
LighthouseAI™  leverages compliance automation to solve compliance challenges, while reducing your stress and workload.
Revenue Protection
Compliance is achieved in minutes, not days, resulting in the protection of your revenue stream from any adverse actions.
Automated Knowledge
Generate immediate compliance assessments for your facilities and erase hours of manual research to focus on actionable items.
Automated Surveillance
Receive instant regulatory updates and notifications regarding new and changing requirements and legislation relevant to your facilities.
Compliance Enablement
Organize your data on a single platform to achieve transparency with a bird's eye view of your compliance activities.
What Are People Saying About LighthouseAI?
"Regulations are just impossible to keep up with. At best, the solution used to be an Excel file to muddle through. I am excited about LighthouseAI."
Director of Compliance for one of the nation's largest pharma wholesalers
"Love that you are making this because it is badly needed. We need better tools and we need them now."
Director of Regulatory Affairs for multi-billion-dollar Pharma Manufacturer
"There are so few tools to assist us. LighthouseAI will help us avoid non-compliance fines as severe as $10,000 a day."
Compliance Director for one of the nation's largest regional healthcare distributors
LighthouseAI
Helping Clients Automate Compliance Objectives
Watch this quick video teaser to see how LighthouseAI will help reduce your compliance workload and alleviate compliance stress.
Visit our Video section to learn more about LighthouseAI and see video demos of both LighthouseAI Intelligence and LighthouseAI Management.
LighthouseAI Suite
Revolutionary
Approach to Compliance
LighthouseAI provides two integrated compliance modules
for rapid research and efficient management: LighthouseAI
Intelligence determines requirements, while Management
assists in executing activities.
Mitigates risk from non-compliance

Reduces ever-increasing compliance costs

On average, delivers over a 600% ROI
LighthouseAI Intelligence
Rapid Compliance Intelligence
LighthouseAI Intelligence uses compliance automation to perform assessments across all state and federal jurisdictions, then automates regulatory surveillance by tracking, detecting, and notifying clients of changes to compliance requirements.
Significantly reduces compliance costs for existing or new facilities
Virtually eliminates the need for outside resources and assistance
Continual surveillance so that you're  immediately alerted to any changes
LighthouseAI Management
Full Compliance Management
LighthouseAI Management is a centralized database that houses all compliance data, requirements, documents, and tasks. Increased organization of activities enables transparency and accountability.
Centralizes all compliance requirements, documents and tasks
Single source of truth for entire compliance portfolio
Simplifies all aspects of ongoing compliance management
ISO 27001 Certified
ISO 27001 is an internationally recognized standard that ensures organizations adhere to strict data security best practices. With this certification, LighthouseAI demonstrates an unyielding dedication to information security, data protection, and risk management.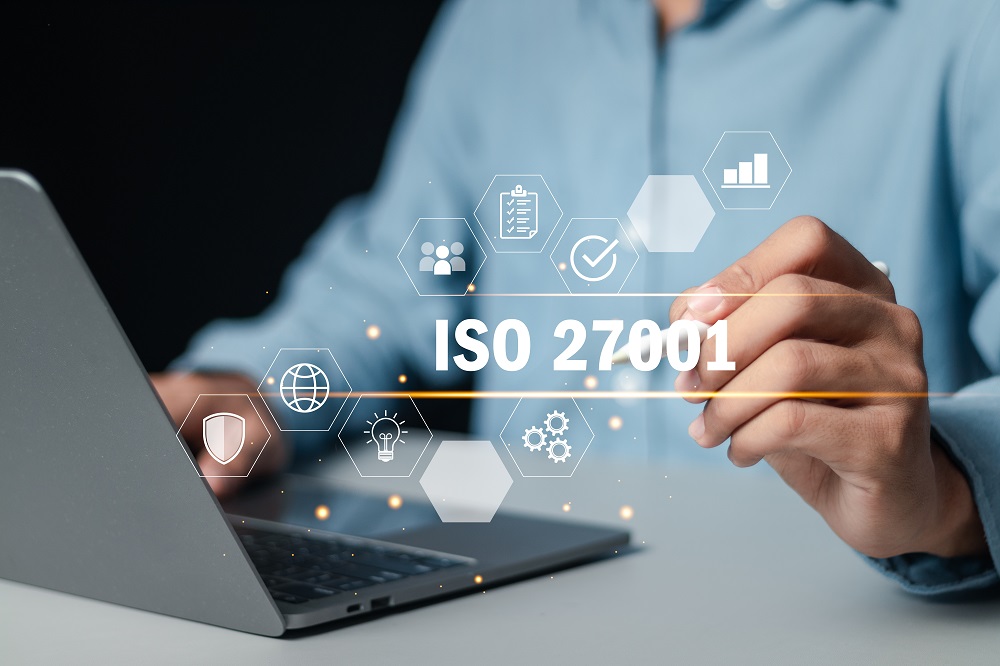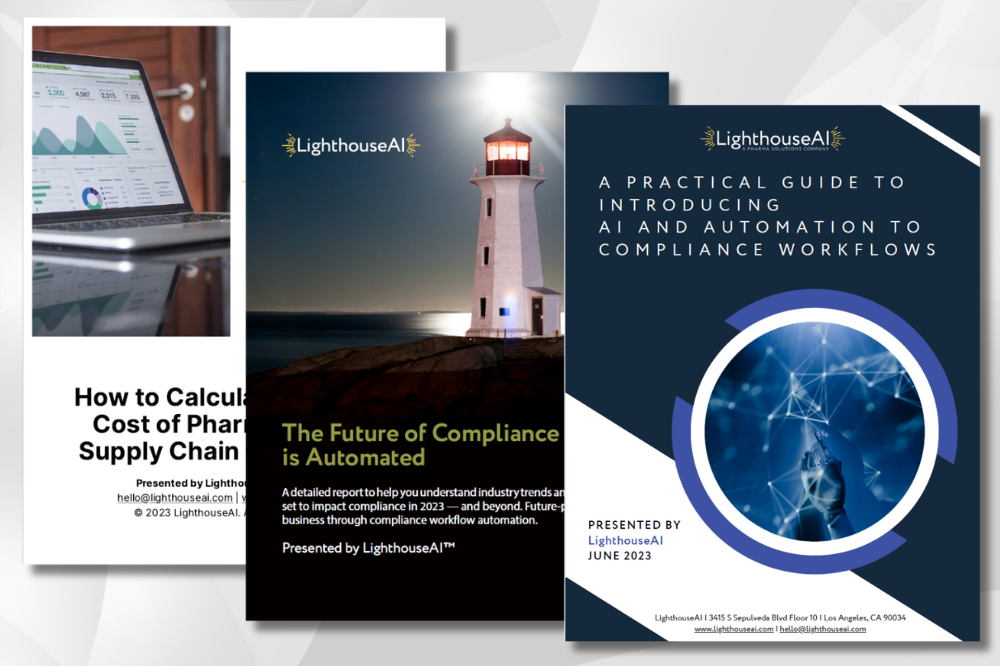 Whitepapers
Want to learn more about compliance automation? LighthouseAI's compliance experts have written on a number of in-depth topics related to compliance and solving our challenges with compliance technology.
LighthouseAI offers a number of whitepapers on topics including:
How the Future of Compliance is Automated
Introducing AI and Automation Into your Compliance Workflow
The Total Cost of Compliance
LighthouseAI can assist pharmaceutical drug manufacturers track and manage facility licensing, product registration, drug price transparency reporting, drug takeback, opioid taxes, 3PL license verifications and more.
LighthouseAI can assist wholesale drug distributors track and manage facility licensing, renewals, legal and operational requirements, DSCSA and FDA Proposed Rule licensing changes, and more.
LighthouseAI can assist third-party logistics providers track and manage facility licensing, renewals, legal and operational requirements, DSCSA and FDA Proposed Rule licensing changes, and more.
Let's Talk Compliance
Click the button below to schedule a Discovery Call with our Compliance Experts
Reduce Your Compliance Stress and Workload
Automate Your Compliance Research.
Run Instant Compliance Assessments.
Receive Automated Regulatory Notifications.
Centralize Compliance Data to One Platform.
Track & Manage All Compliance Requirements.
Store Important & Sensitive Documents Securely.