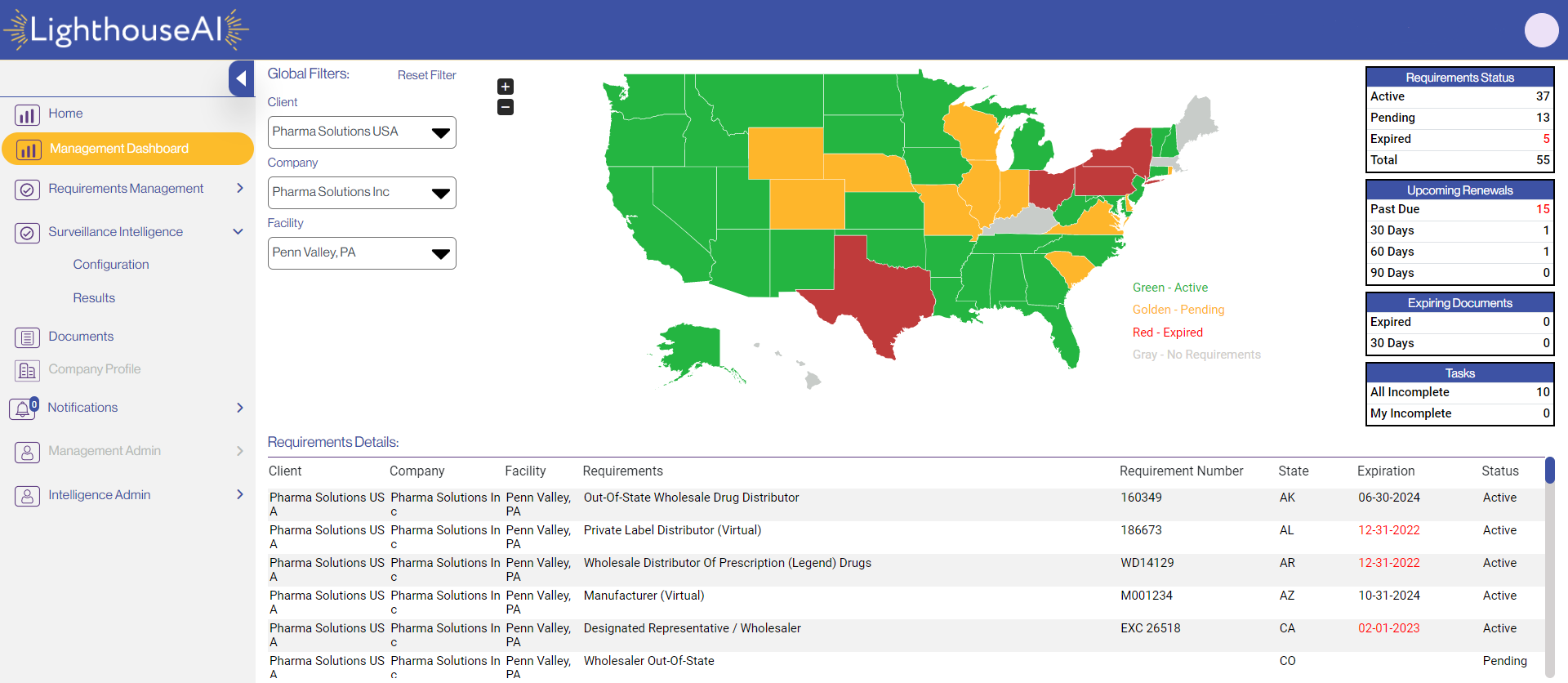 LighthouseAI
Helping Clients Automate Compliance Objectives
Watch How LighthouseAI Management Works
Watch part 2 of the LighthouseAI Management demo:
Compliance Solving Features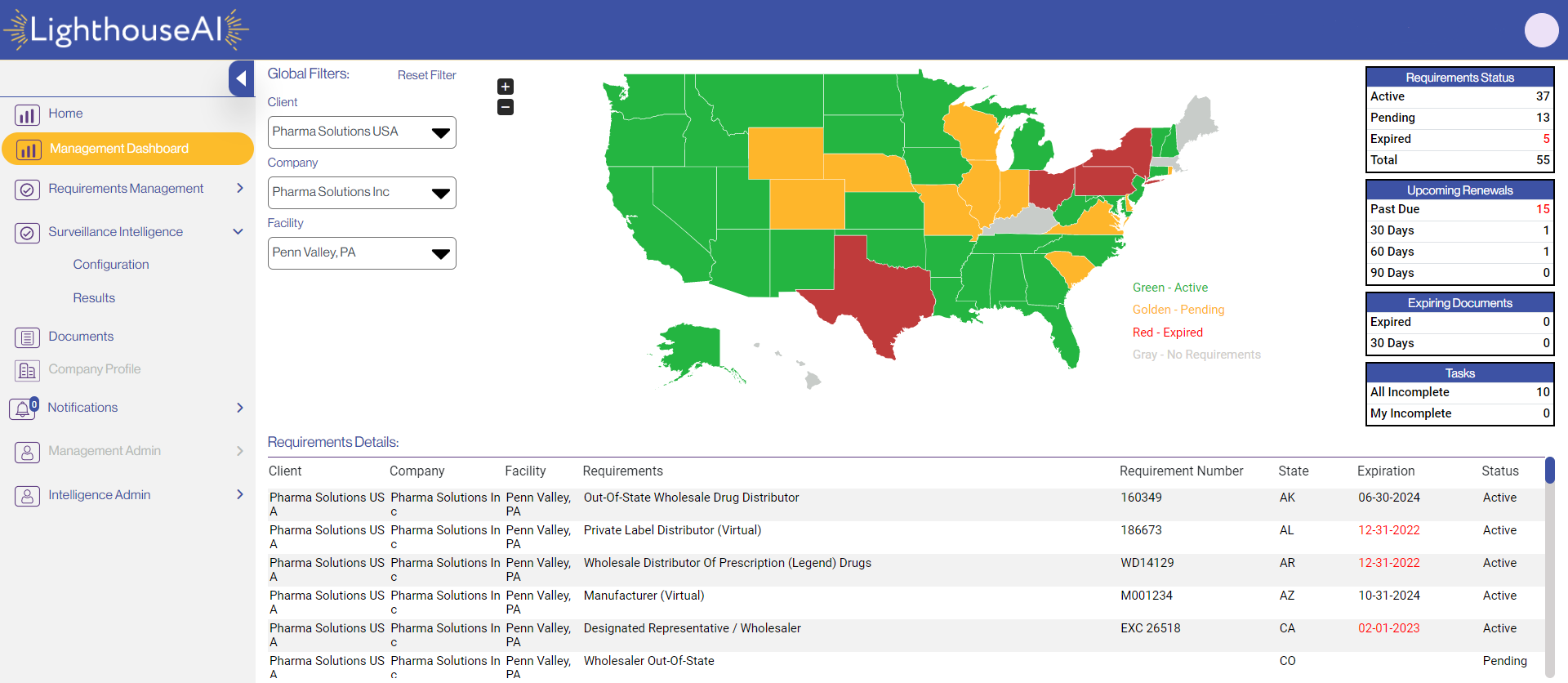 Compliance KPIs
The state-by-state visual map and KPI toolbar give a clear "bird's eye view" of your compliance standings providing instant insight into all jurisdictions.
Requirement Tracking
Track and manage all of your facility's state and federal requirements including licenses, renewals, change notifications, reporting, and more.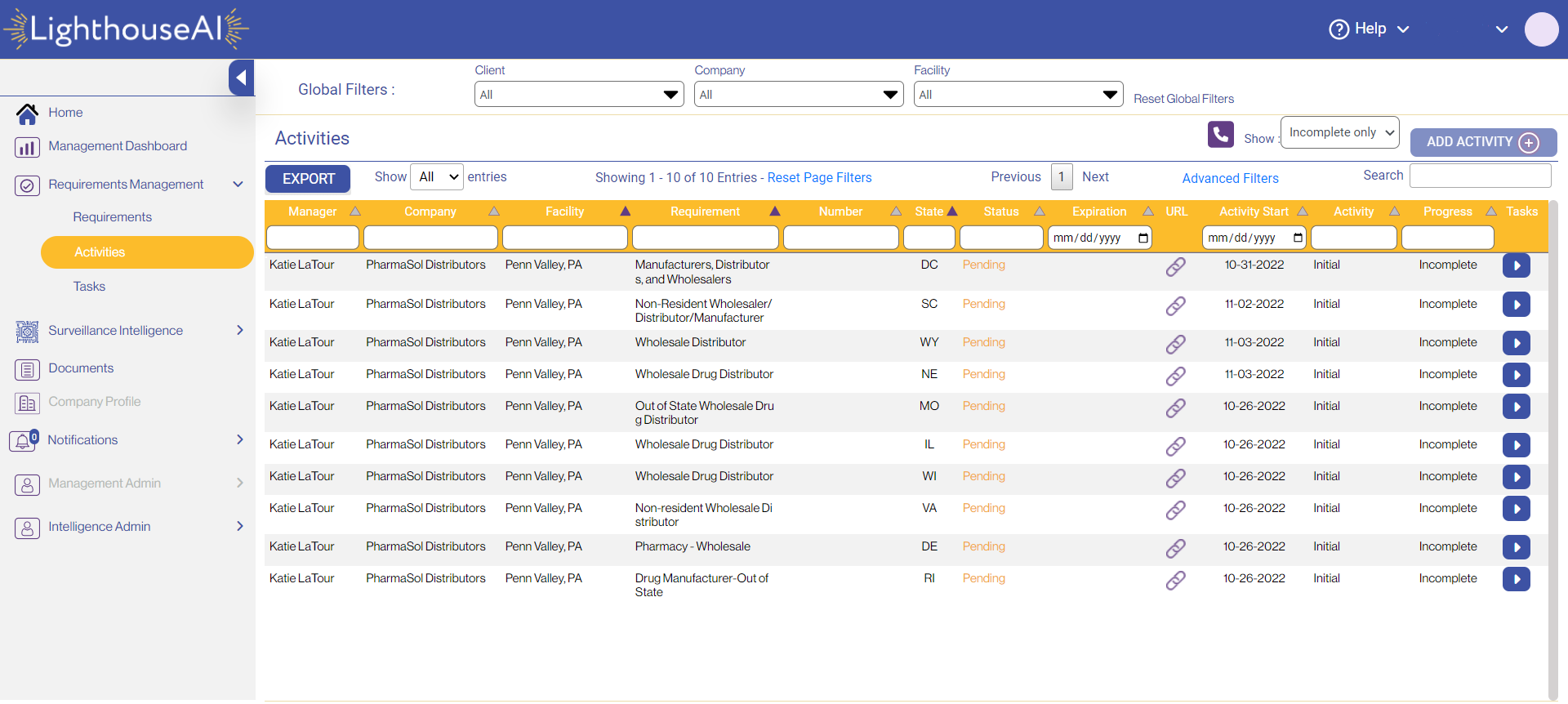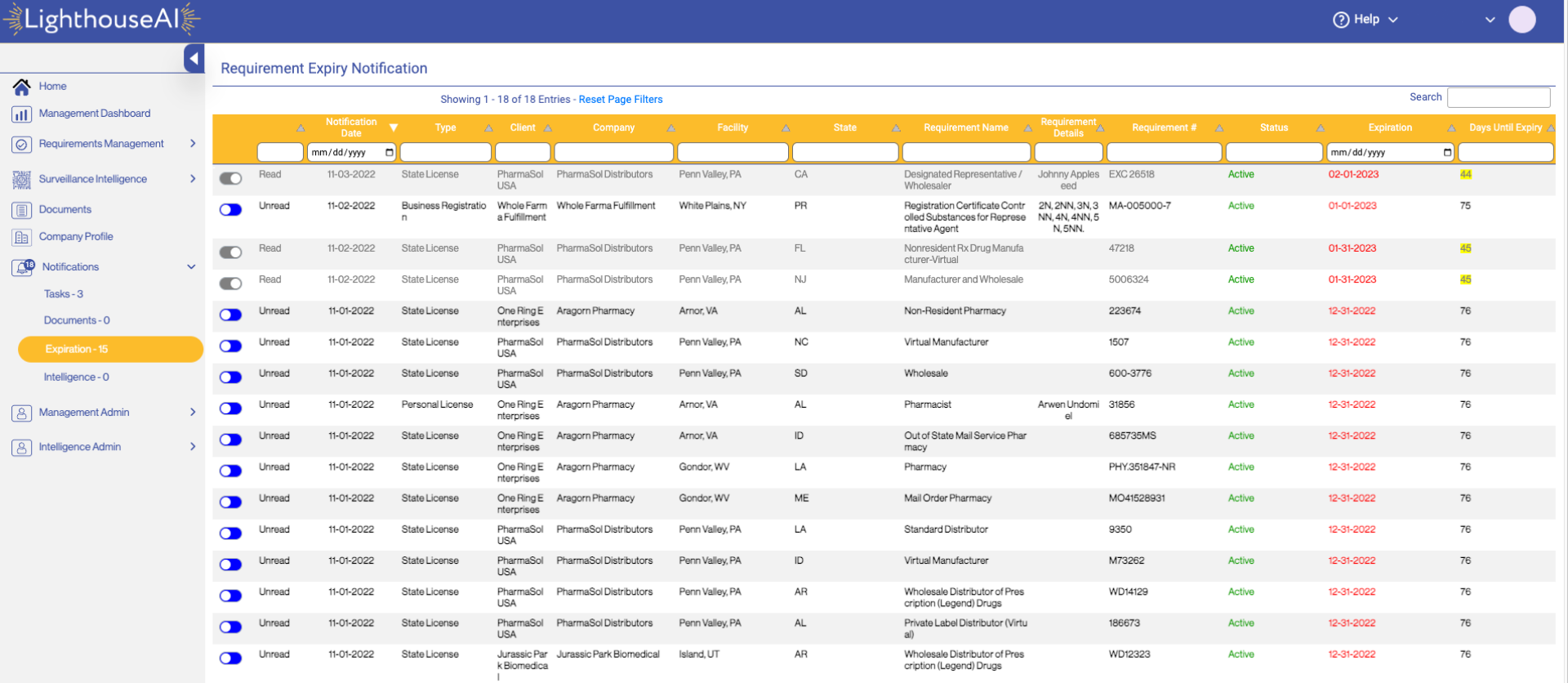 Renewal Notifications
Track the renewal dates of licenses and expiration dates of documents. Avoid lapses of compliance with 90, 60, and 30 reminder notifications.
Activity & Task Management
Manage the activities and tasks needed to complete requirements and assign them to team members creating accountability and transparency.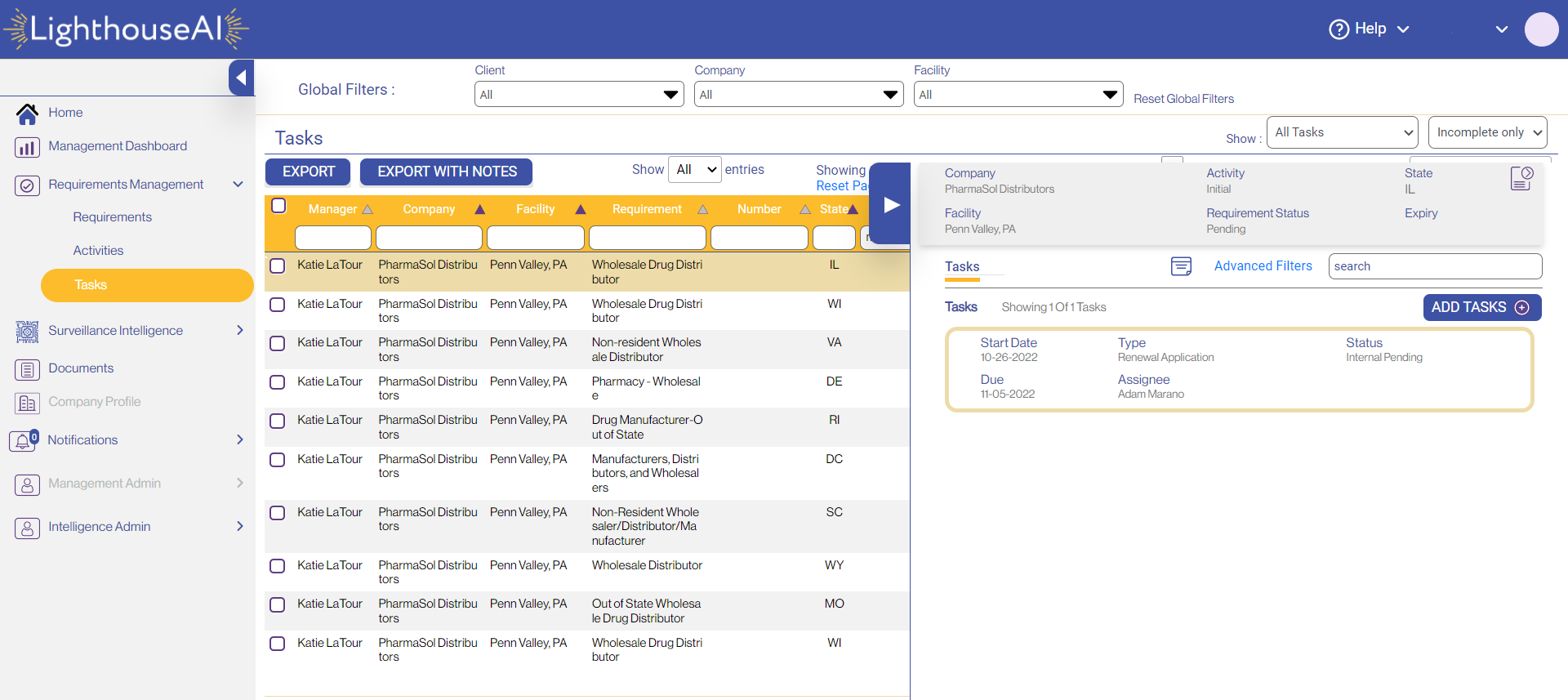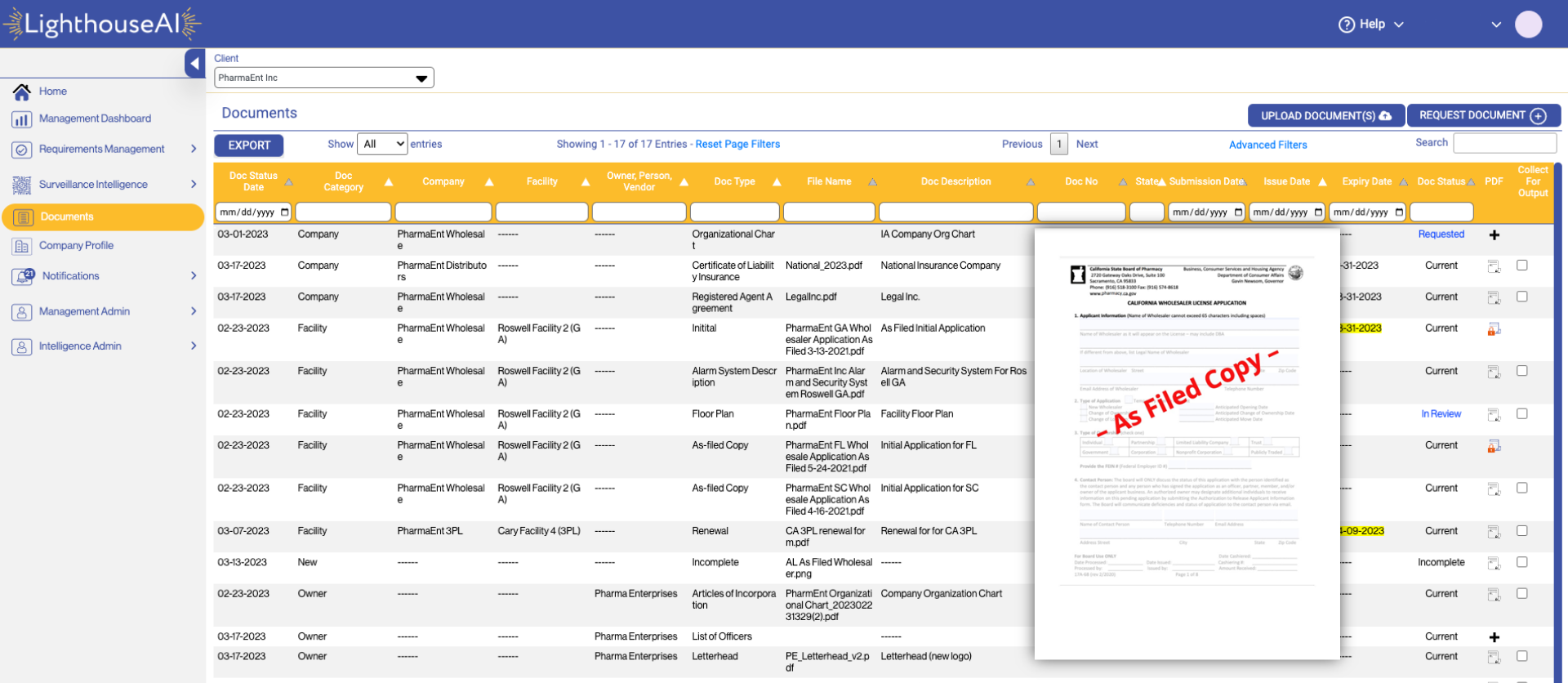 Document Repository
Securely upload and store important compliance documents, such as, contracts, inspection reports, license applications, surety bonds, and more.
Company Profiles
Company and vendor profiles create a data repository of important information for your facilities related to contacts, clients, projects, and discipline information.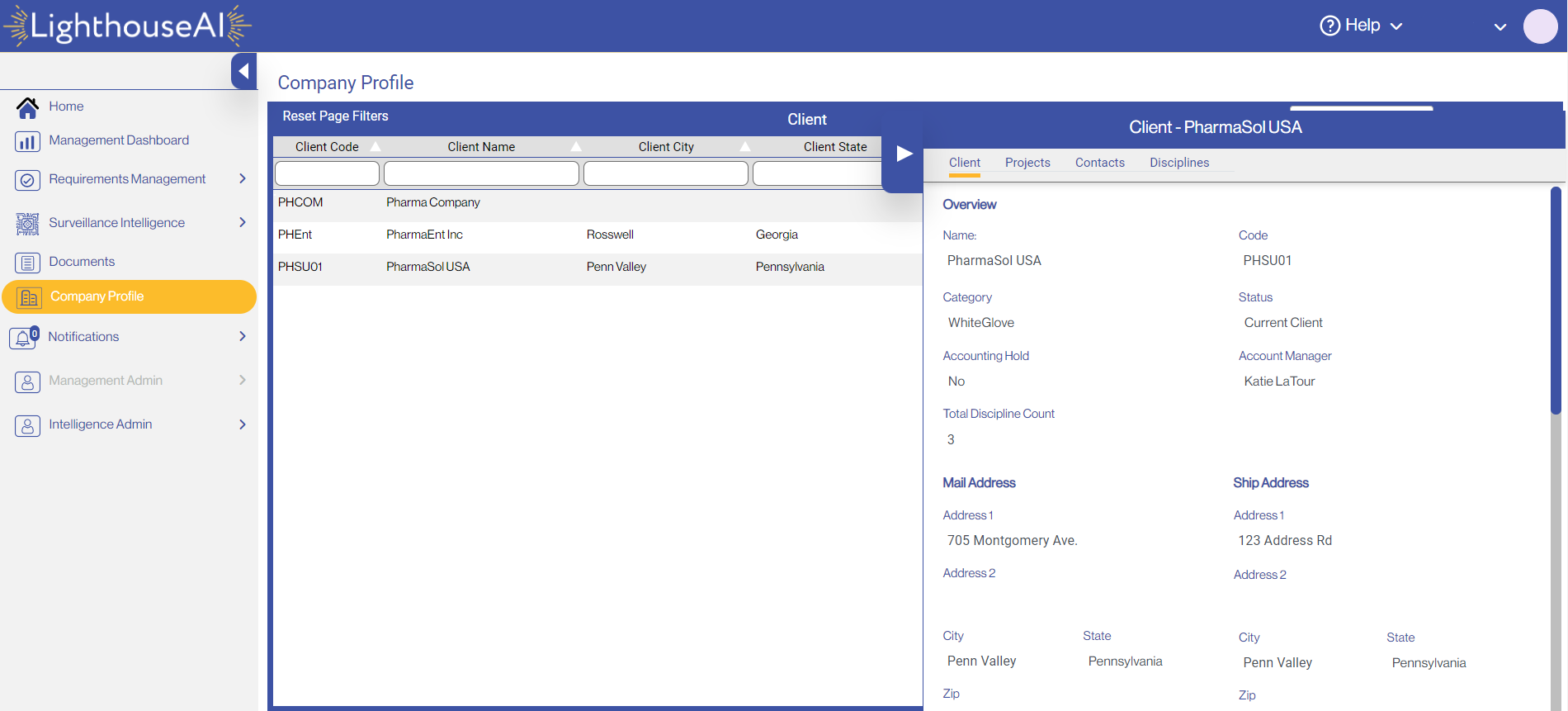 Integrated Solutions To Meet Requirements
Intelligence + Management Together
LighthouseAI Intelligence and LighthouseAI Management work as integrated modules to protect your revenue from non-compliance. Utilize LighthouseAI Intelligence to determine your compliance requirements, then utilize LighthouseAI Management to take action.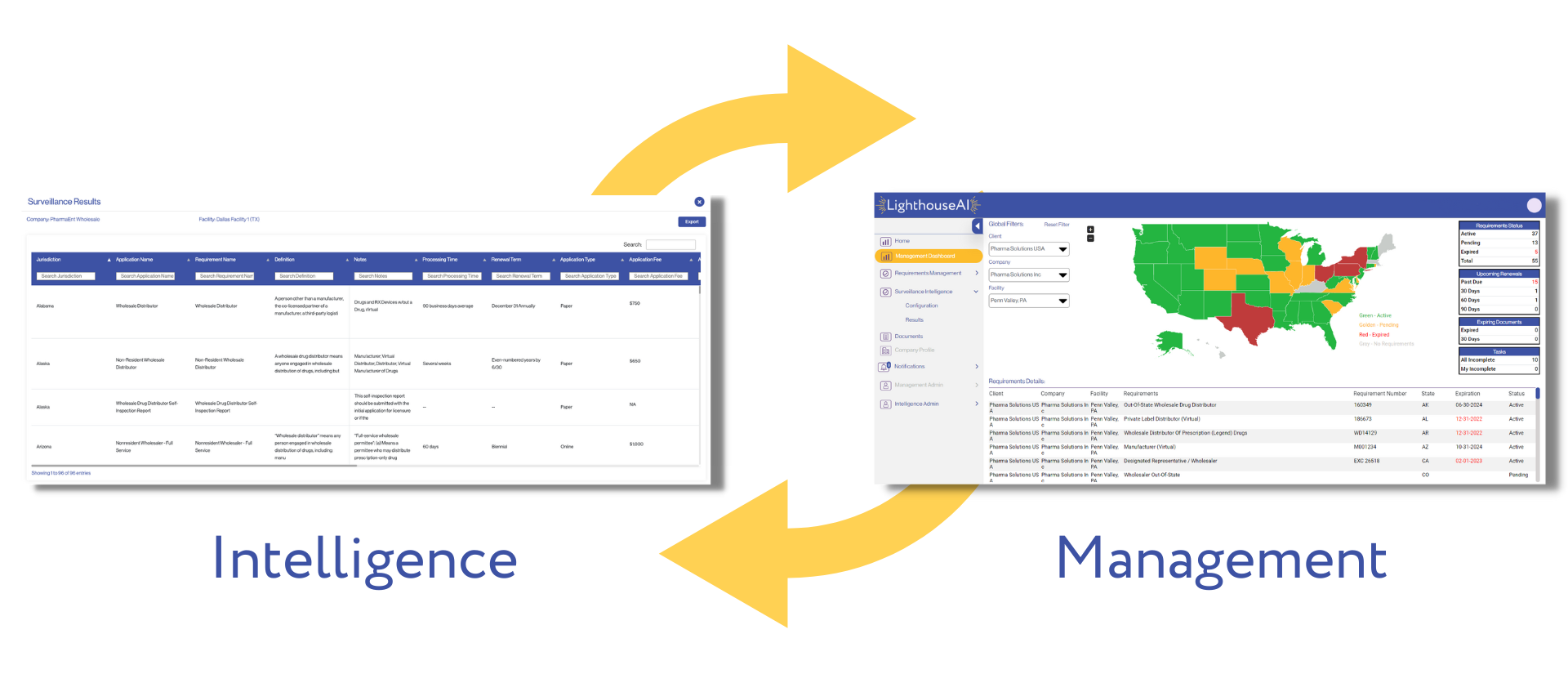 Benefits of Compliance Management
Knowledge and surveillance are only half of the story, the execution and management
of requirements is vitally important and must be well organized.
Revenue Protection
Easily identify compliance gaps and non-compliance risks like expired licenses, documents, or missing requirements.
Risk Mitigation
Manage compliance requirements for your facilities to protect against non-compliance fines, penalties, and disciplinary actions.
Centralized Information
Host the entirety of your requirements and activities like licensing, renewals, documents, and more on a single platform.
Real-Time Data
Gain full compliance insight across all facilities or businesses with real-time data, utilized by all teams across your organization.
Let's Talk Compliance
Click the button below to schedule a Discovery Call with our Compliance Experts
Reduce Your Compliance Stress and Workload
Automate Your Compliance Research.
Run Instant Compliance Assessments.
Receive Automated Regulatory Notifications.
Centralize Compliance Data to One Platform.
Track & Manage All Compliance Requirements.
Store Important & Sensitive Documents Securely.