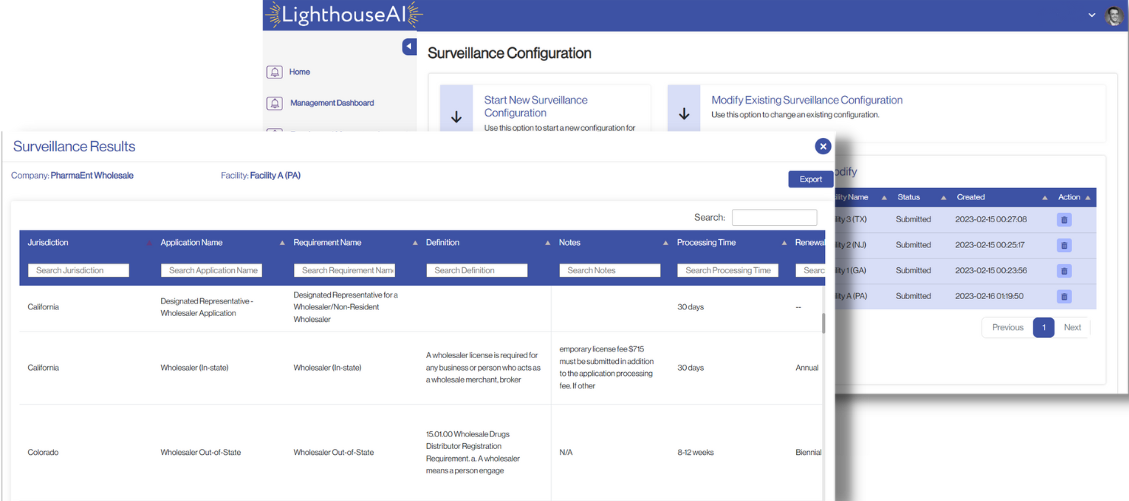 All The Tools You Need For Compliance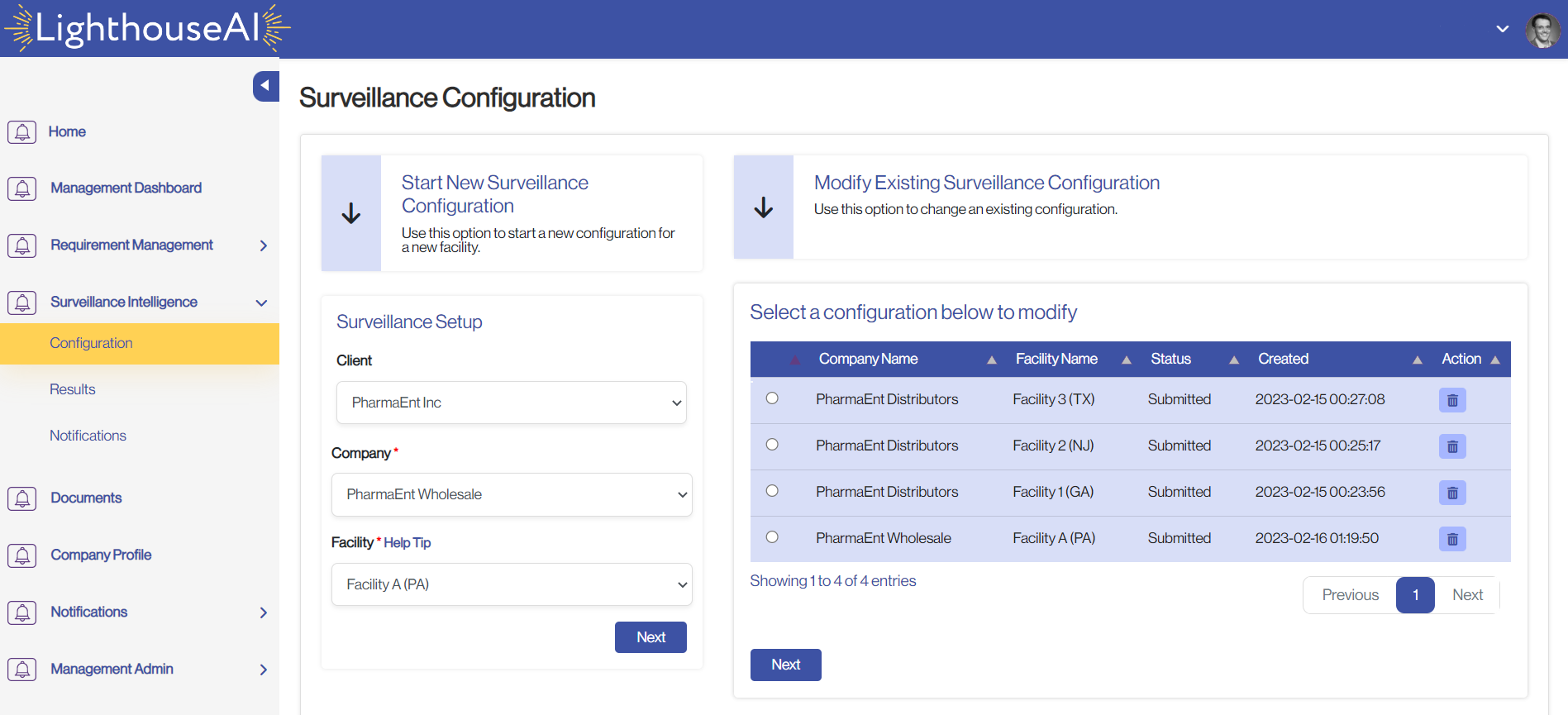 Automated Knowledge
LighthouseAI Intelligence performs instant assessments across all state and federal jurisdictions, identifying which requirements apply to your facility and how they apply, all within minutes rather than days.
Regulatory Surveillance
Regulatory surveillance is automated to keep you compliant by tracking, detecting, and notifying clients of changes to compliance requirements that apply to each of your facilities.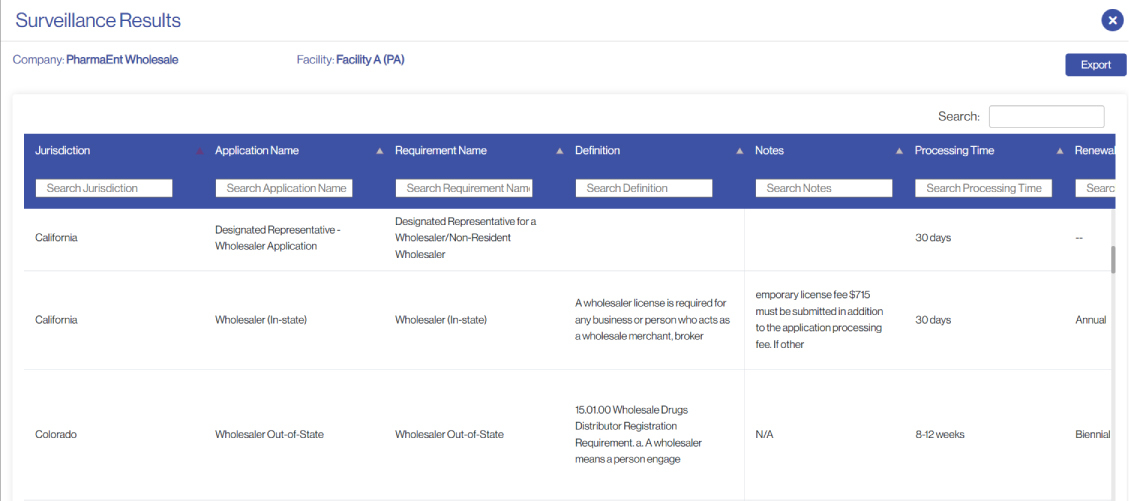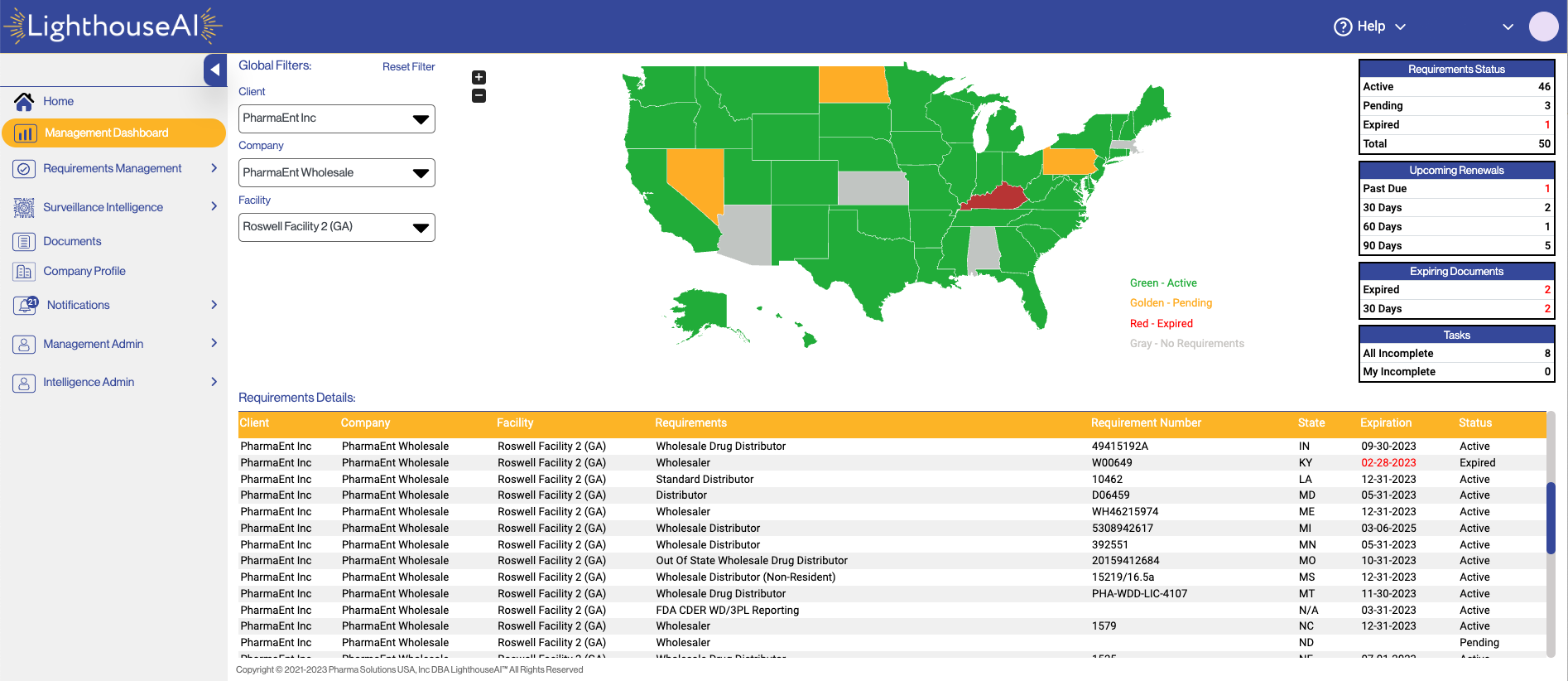 Compliance Enablement
LighthouseAI Management provides a centralized platform to efficiently organize, manage, and track each state and federal requirement with a new level of transparency and control.
Document Repository
Securely upload and store important compliance documents, such as, contracts, inspection reports, license applications, surety bonds, and more.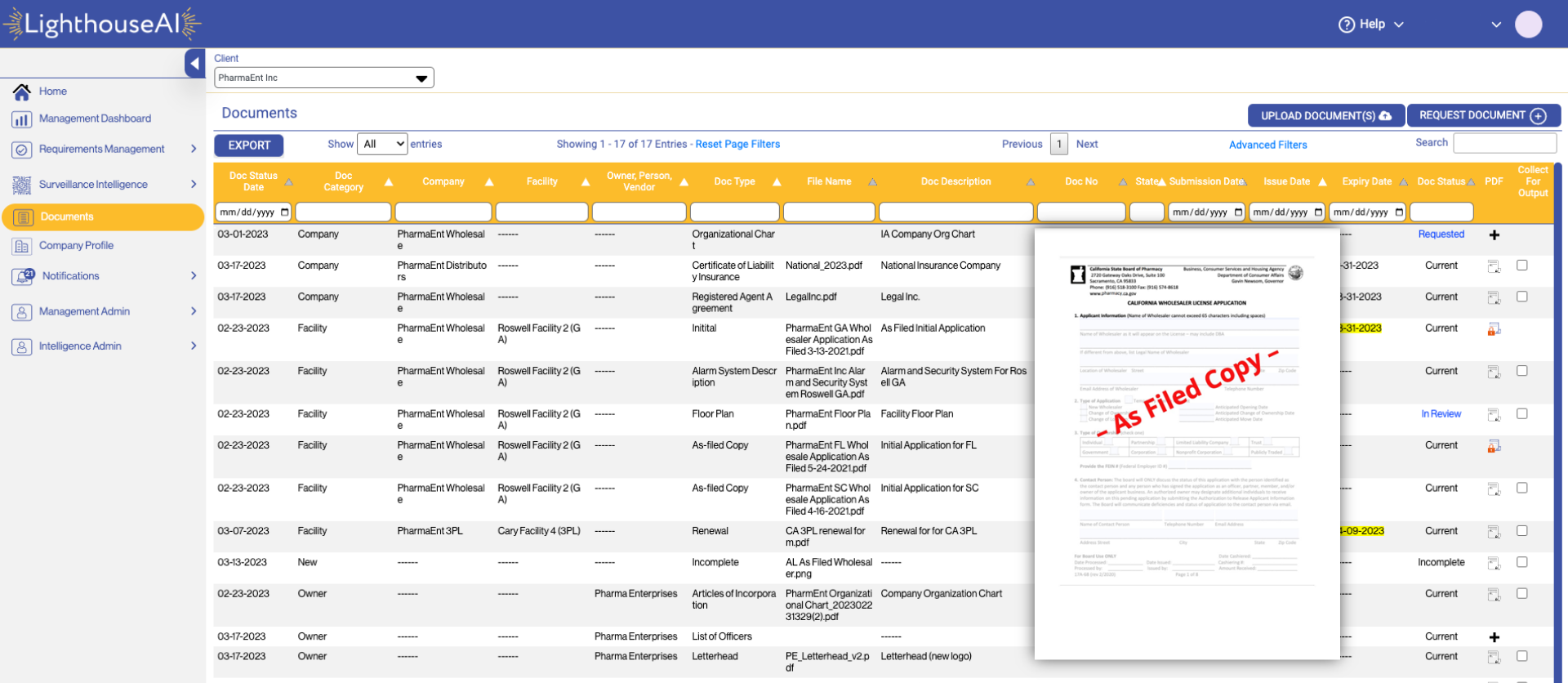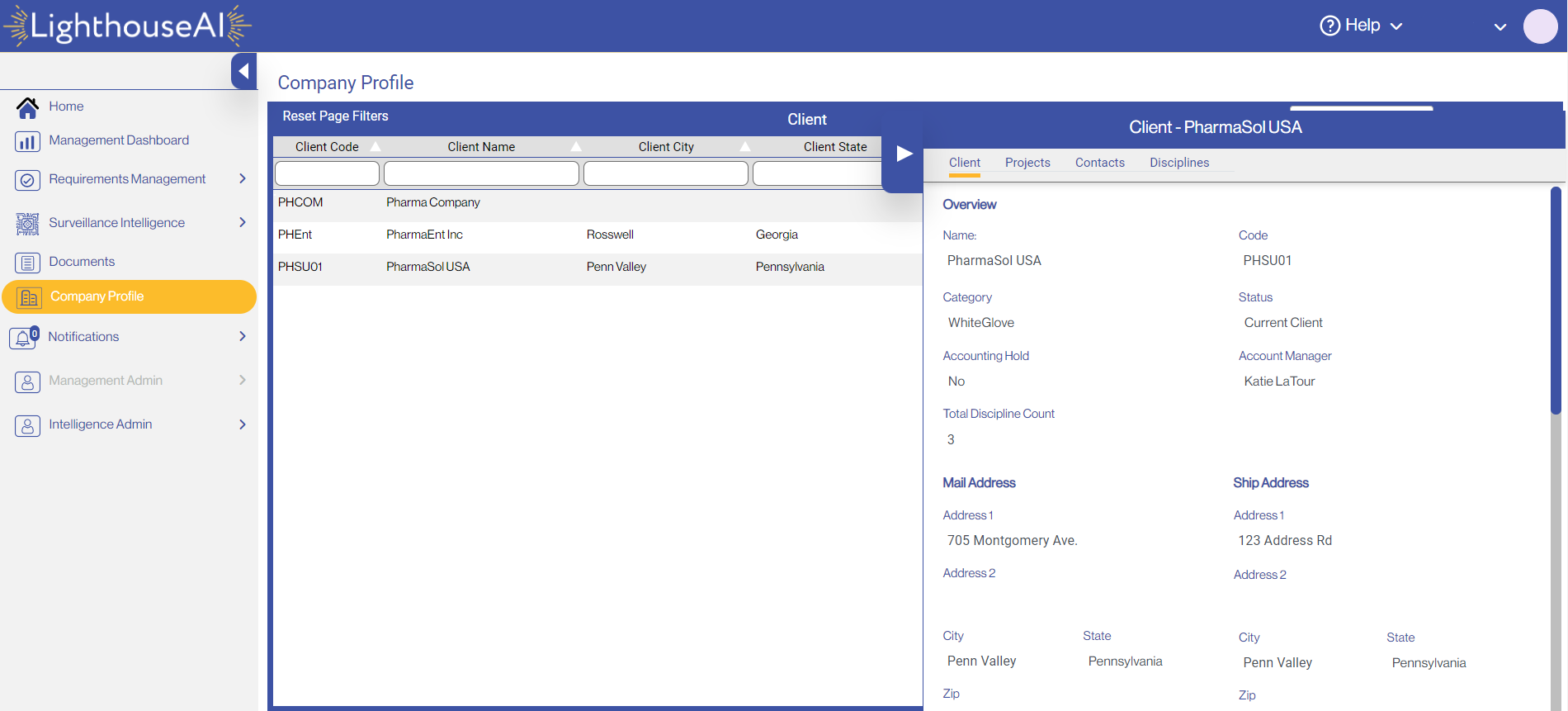 Company Profiles
Company and vendor profiles create a data repository of important information for your facilities related to contacts, clients, projects, and discipline information.
What Are People Saying About LighthouseAI?
"Regulations are just impossible to keep up with. At best, the solution used to be an Excel file to muddle through. I am excited about LighthouseAI."
Director of Compliance for one of the nation's largest pharma wholesalers
"Love that you are making this because it is badly needed. We need better tools and we need them now."
Director of Regulatory Affairs for multi-billion-dollar Pharma Manufacturer
"There are so few tools to assist us. LighthouseAI will help us avoid non-compliance fines as severe as $10,000 a day."
Compliance Director for one of the nation's largest regional healthcare distributors
Streamlined Compliance With Automation
As regulations continue to evolve and become increasingly complex, automation is necessary. With LighthouseAI,
compliance research processes can be streamlined, reducing days of work down to just a few minutes.
Reduced Risk with Integrated Solutions
Intelligence + Management Together
LighthouseAI Intelligence and LighthouseAI Management work as integrated modules to protect your revenue from non-compliance. Once LighthouseAI Intelligence determines compliance requirements, utilize LighthouseAI Management to take action.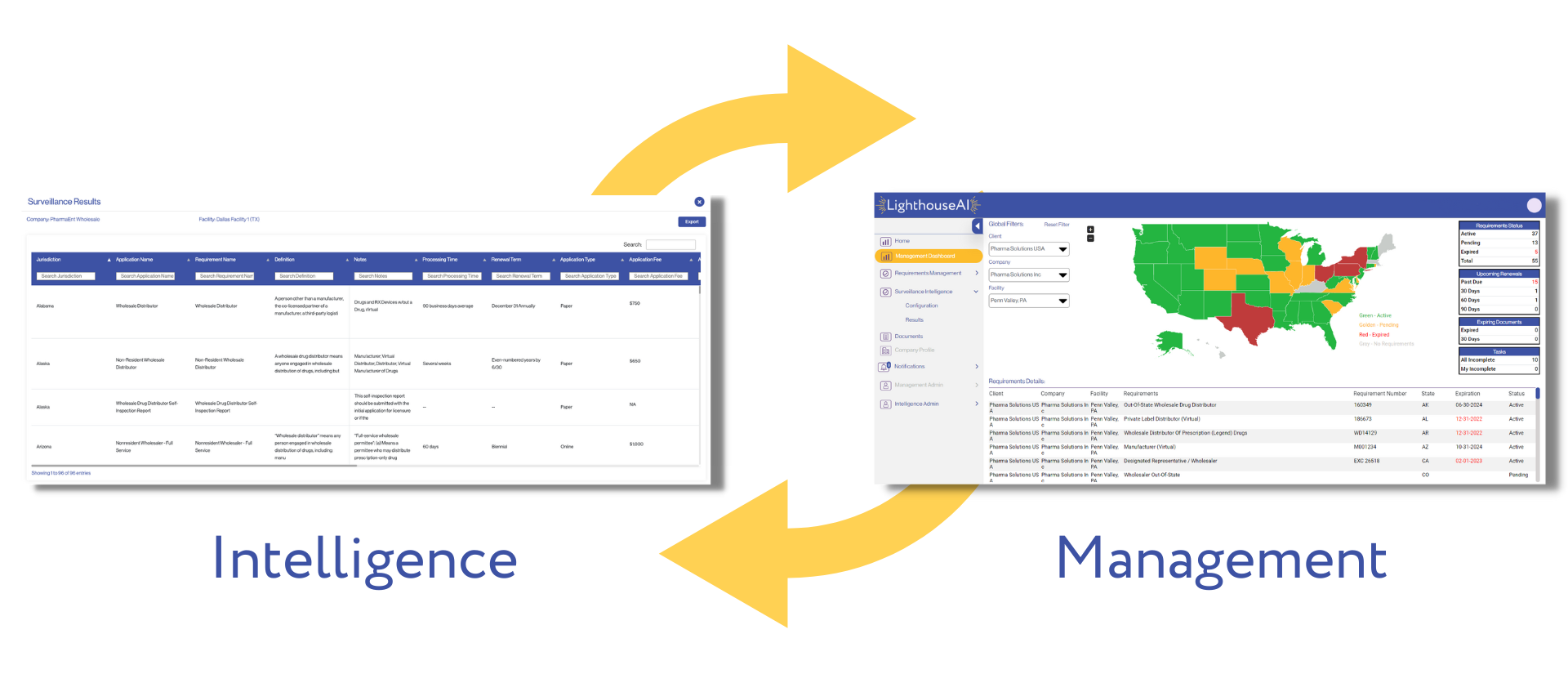 Using AI to Protect Your Revenue
LighthouseAI is an AI-based SaaS solution that automates compliance so that
your revenue is protected, risk is mitigated and costs are reduced.
Revenue Protection
Compliance is achieved in minutes, not days, resulting in the protection of your revenue stream from any adverse actions.
Automated Knowledge
Generate immediate compliance assessments for your facilities and erase hours of manual research to focus on actionable items.
Automated Surveillance
Receive instant regulatory updates and notifications regarding new and changing requirements and legislation relevant to your facilities.
Compliance Enablement
Organize your data on a single platform to achieve transparency with a bird's eye view of your compliance activities.
LighthouseAI
Helping Clients Automate Compliance Objectives
Let's Talk Compliance
Click the button below to schedule a Discovery Call with our Compliance Experts
Reduce Your Compliance Stress and Workload
Automate Your Compliance Research.
Run Instant Compliance Assessments.
Receive Automated Regulatory Notifications.
Centralize Compliance Data to One Platform.
Track & Manage All Compliance Requirements.
Store Important & Sensitive Documents Securely.