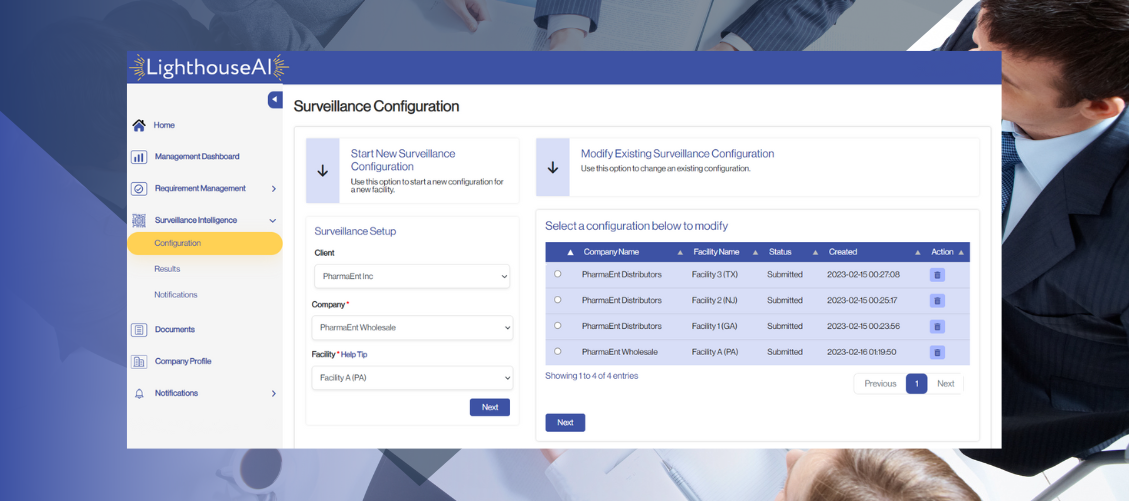 Watch This Video Explainer
Meet regulatory compliance with ease as LighthouseAI will manage your requirements with Compliance-as-a-Service.
Complete Compliance Management
LighthouseAI CaaS streamlines the compliance process for compliance professionals by combining the latest in compliance technology with managed services for complete compliance management. LighthouseAI CaaS covers all of your compliance needs: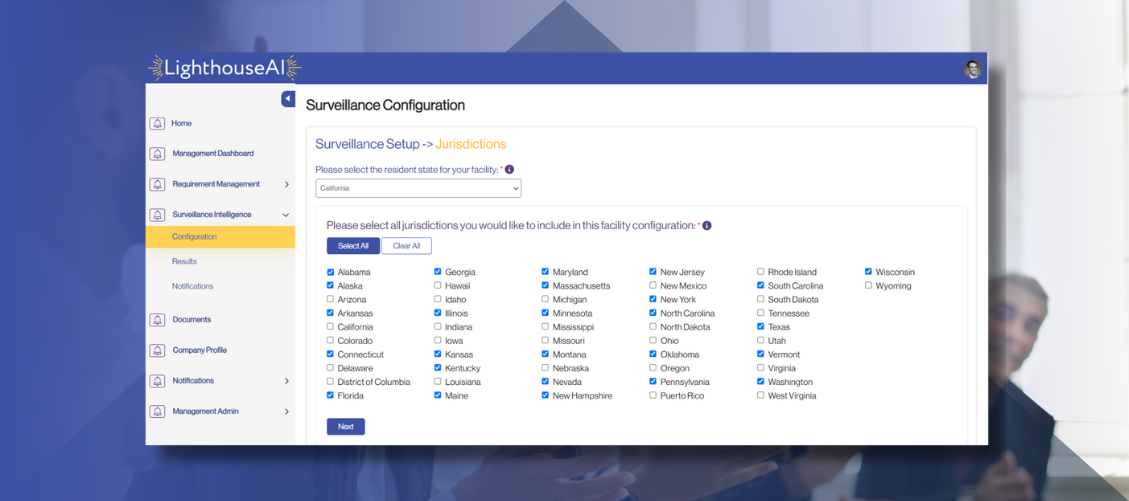 Compliance Change Monitoring
Compliance Change Monitoring, includes the identification of all compliance requirements (licensing, reporting, Drug Takeback, State Price Transparency, and more), as well as Initial and Renewal Licensing Services, across all US jurisdictions for all existing and new facilities.
The Case for CaaS
LighthouseAI CaaS automates and manages your compliance across all state and federal jurisdictions and does all the heavy lifting for you.
Your dedicated Project Managers will handle every facet of compliance, from real-time monitoring, to paperwork submission and liaison with regulatory bodies.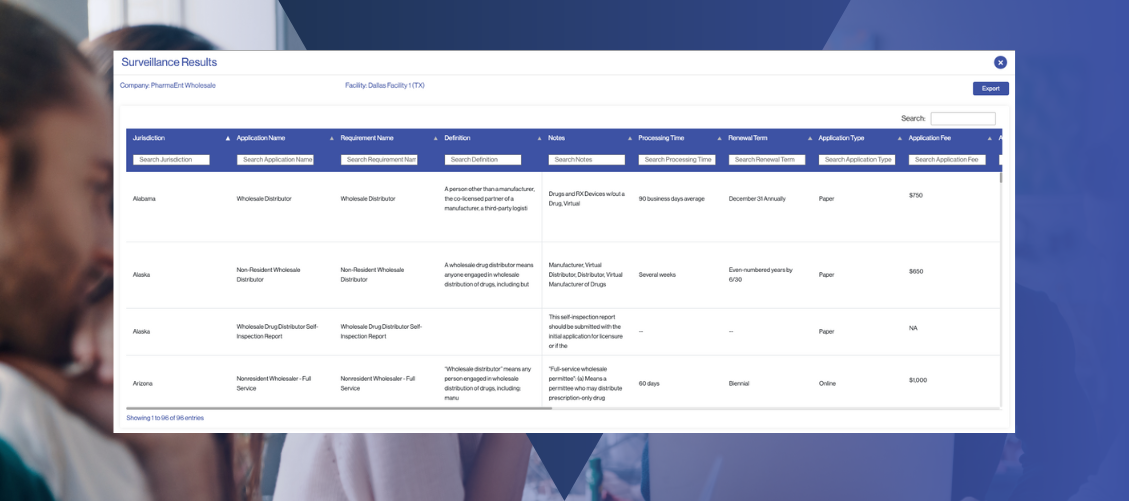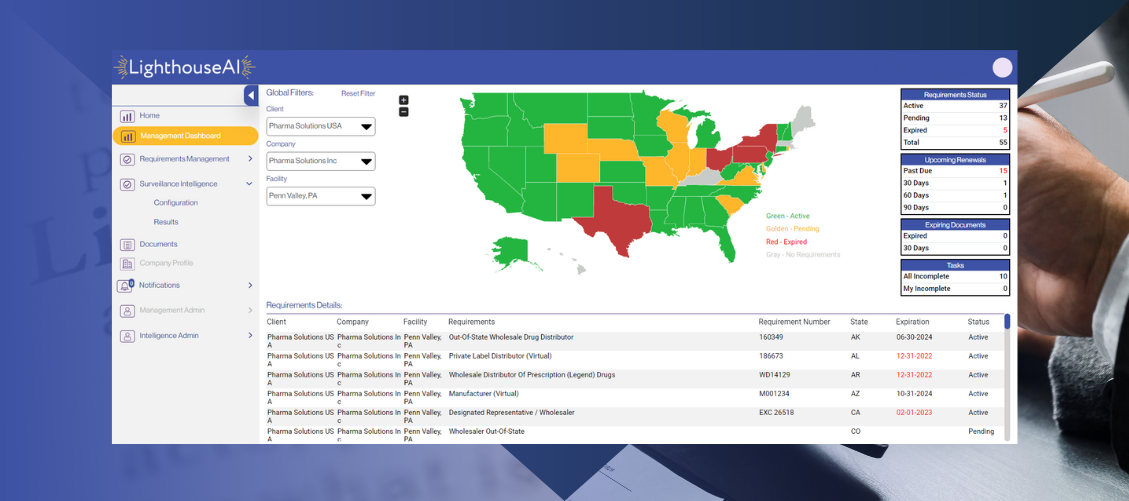 Extension of Your Team
With LighthouseAI CaaS acting as an integrated extension of your team, you reclaim the time and energy previously expended on compliance management.
This newfound bandwidth can be reallocated to strategic planning, innovation, and other high-impact areas that drive business growth and competitiveness. 
Turnkey Compliance
LighthouseAI CaaS, includes all activities to remain compliant across federal and state jurisdictions, offering a comprehensive, turnkey solution for compliance management.
With LighthouseAI CaaS, you can achieve quicker and more cost-efficient compliance in a resource-constrained environment.
Schedule a Discovery Call to Learn More
Choose the Plan that Best Fits You
Maintain perpetual compliance with one of the following LighthouseAI Compliance-as-a-Service plans.
Learn More and Download the One-pager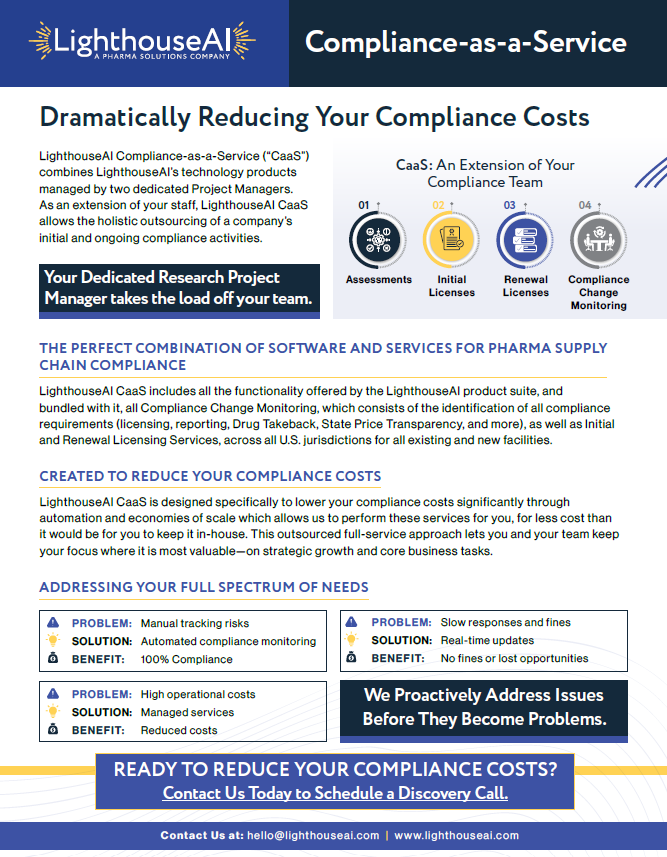 LighthouseAI Compliance-as-a-Service ("CaaS") combines LighthouseAI's technology products managed by two dedicated Project Managers who serve as an extension of your staff. LighthouseAI CaaS allows the holistic outsourcing of a company's initial and ongoing compliance activities.
Download the one-pager to learn how LighthouseAI CaaS reduces your compliance burden:
Compliance managed across all 52 state and federal jurisdictions

Two (2) LighthouseAI compliance experts will manage all requirements

Assessments, initial licensing, renewal licensing

Compliance Change Monitoring to prepare for new regulation
Download the one-pager now to learn more!
Holistic Compliance via Technology + Expert Knowledge
The combination of the LighthouseAI compliance automation technology with the professional services provided by our compliance experts creates a multi-faceted approach to fully cover your compliance needs. Cutting-edge technology meets industry veteran knowledge and completes your holistic coverage to all regulatory and compliance requirements across the shifting regulatory landscape.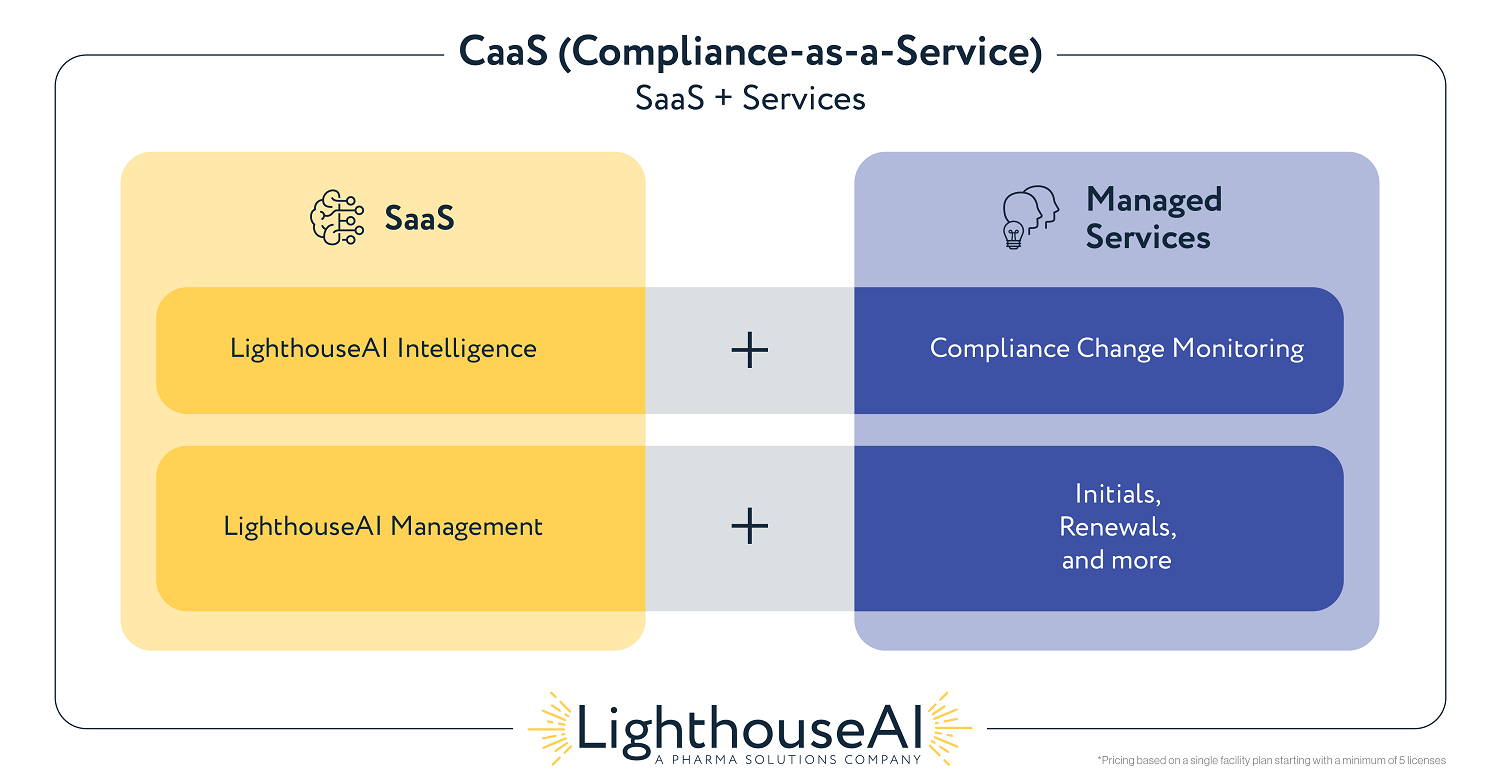 Let's Talk LighthouseAI CaaS
Click the button below to schedule a Discovery Call with our Compliance Experts
Reduce Your Compliance Stress and Workload
Automate Your Compliance Research.
Run Instant Compliance Assessments.
Receive Automated Regulatory Notifications.
Centralize Compliance Data to One Platform.
Track & Manage All Compliance Requirements.
Store Important & Sensitive Documents Securely.