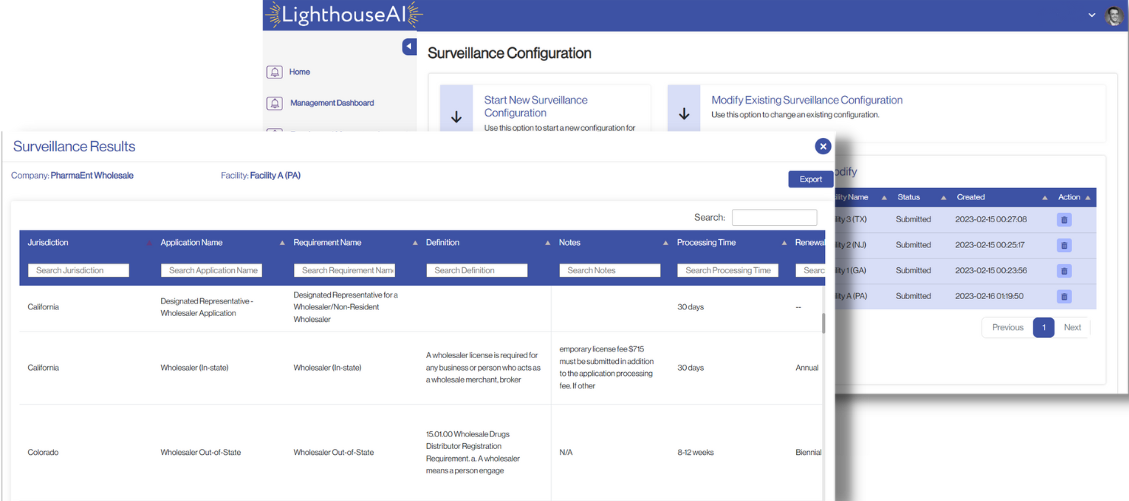 LighthouseAI Intelligence: How It Works
As regulations continue to evolve and become increasingly complex, automation is necessary. With LighthouseAI,
Intelligence, compliance research processes can be streamlined, reducing days of work down to just a few minutes.
LighthouseAI Benefits + Value Adds
LighthouseAI is an AI-based SaaS solution that automates compliance so that
your revenue is protected, risk is mitigated and costs are reduced.
Revenue Protection
Compliance is achieved in minutes, not days, resulting in the protection of your revenue stream from any adverse actions.
Automated Knowledge
Generate immediate compliance assessments for your facilities and erase hours of manual research to focus on actionable items.
Automated Surveillance
Receive instant regulatory updates and notifications regarding new and changing requirements and legislation relevant to your facilities.
Compliance Enablement
Organize your data on a single platform to achieve transparency with a bird's eye view of your compliance activities.
LighthouseAI Intelligence Video Teaser
LighthouseAI Intelligence Demo Video, Part 1
LighthouseAI Intelligence Demo Video, Part 2
LighthouseAI Management Demo Video, Part 1
LighthouseAI Management Demo Video, Part 2
LighthouseAI Suite Top Features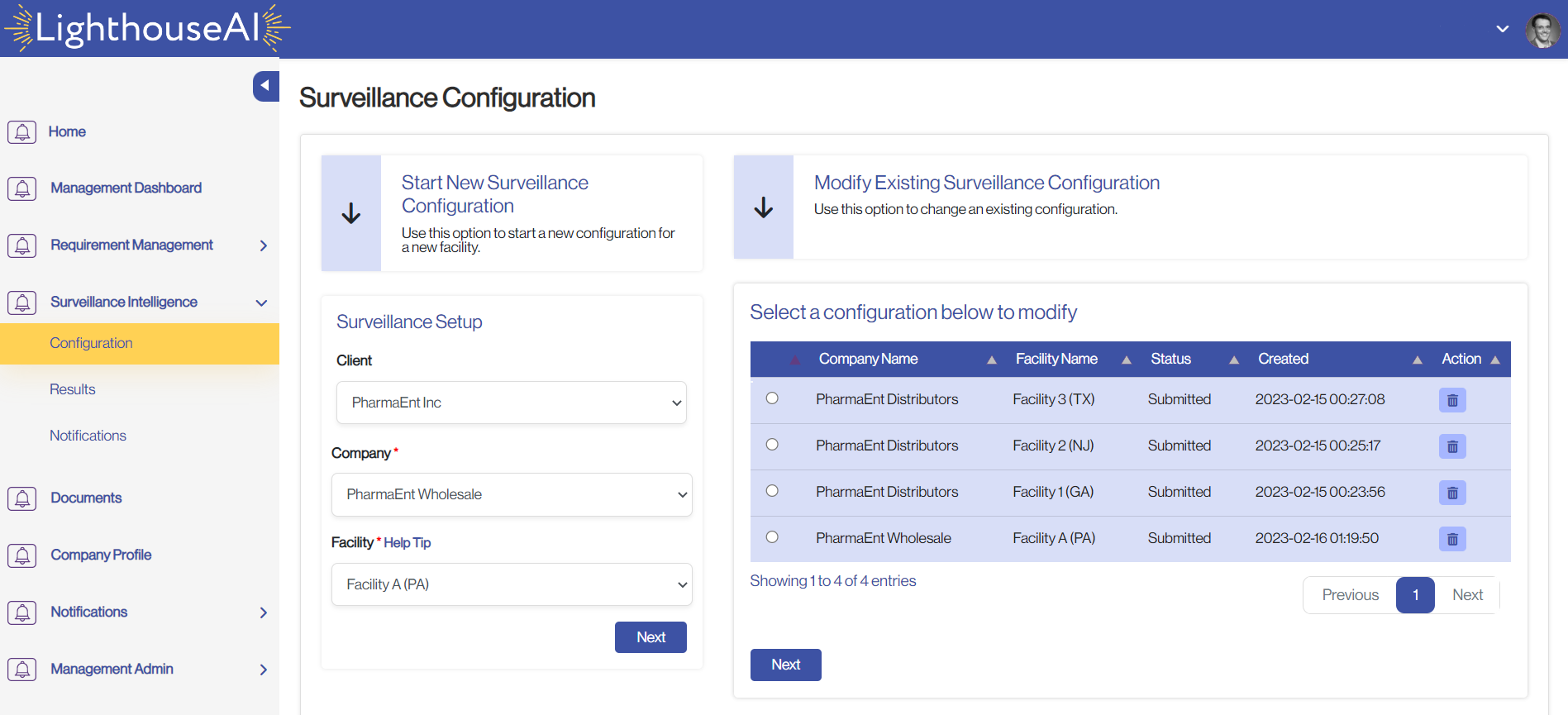 Automated Knowledge
LighthouseAI Intelligence performs instant assessments across all state and federal jurisdictions, identifying which requirements apply to your facility and how they apply, all within minutes rather than days.
Regulatory Surveillance
Regulatory surveillance is automated to keep you compliant by tracking, detecting, and notifying clients of changes to compliance requirements that apply to each of your facilities.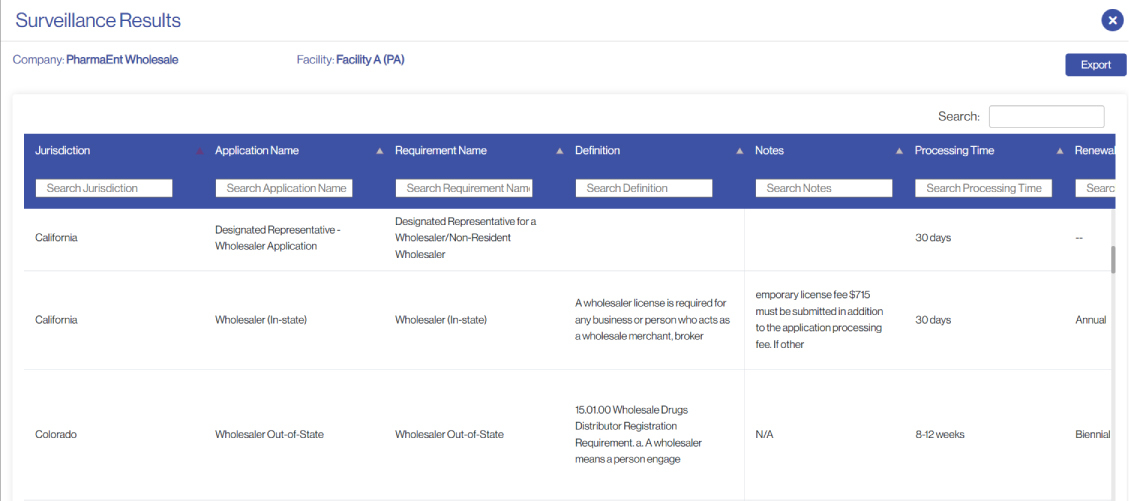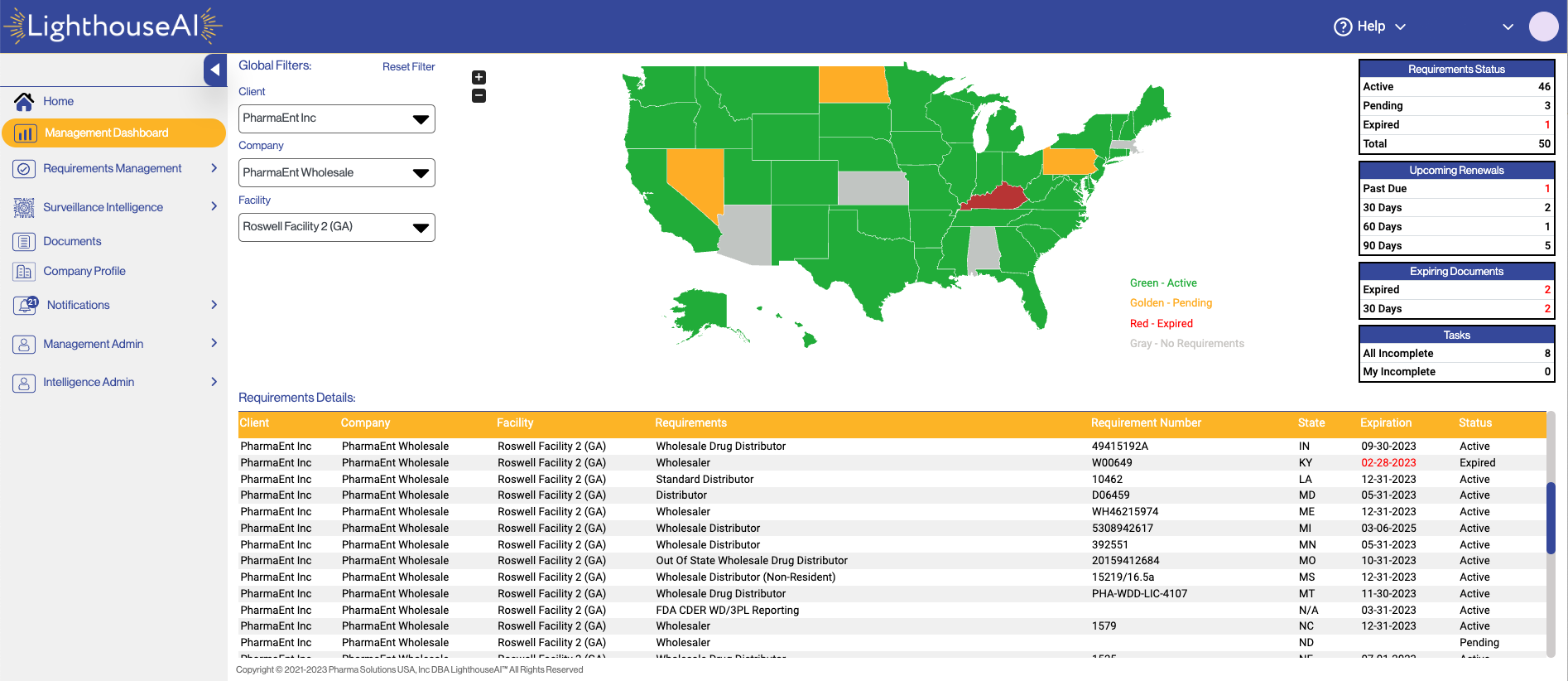 Compliance Enablement
LighthouseAI Management provides a centralized platform to efficiently organize, manage, and track each state and federal requirement with a new level of transparency and control.
Document Repository
Securely upload and store important compliance documents, such as, contracts, inspection reports, license applications, surety bonds, and more.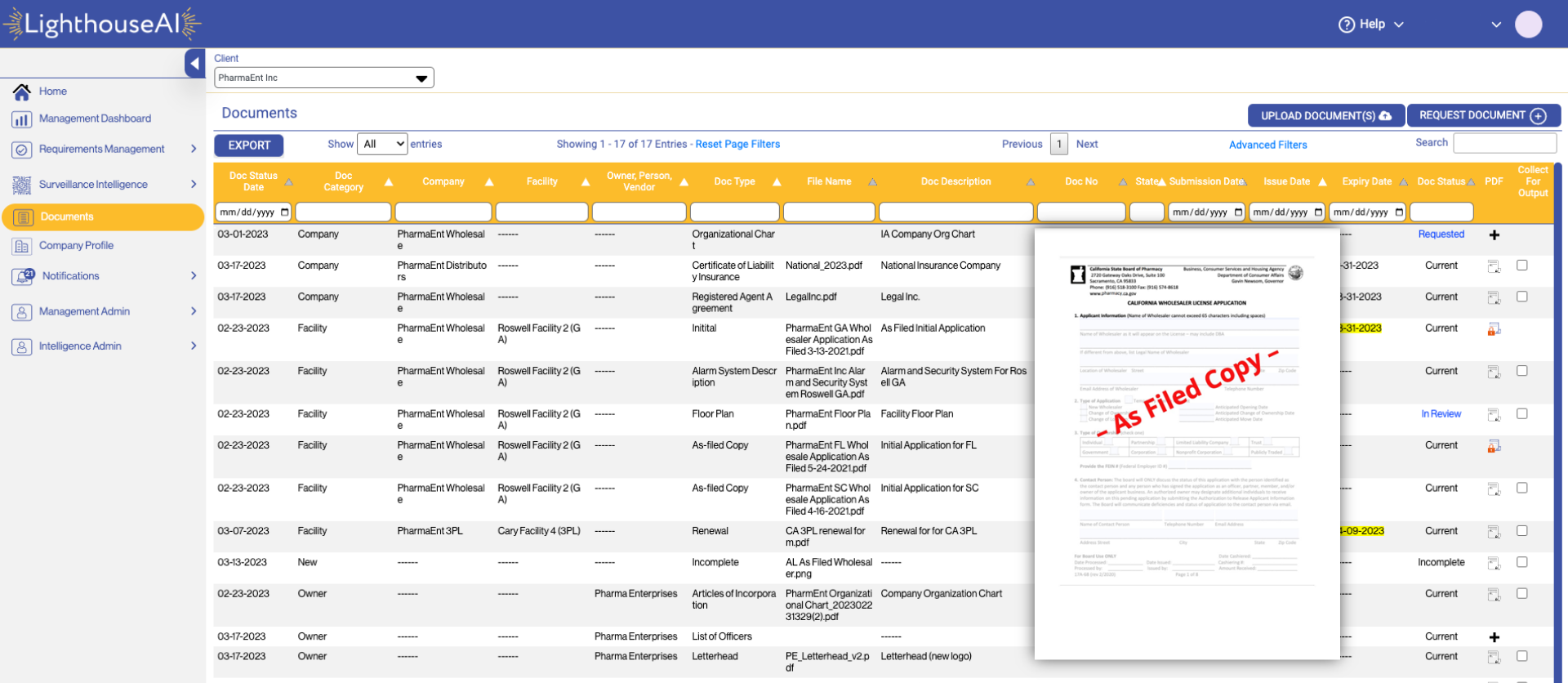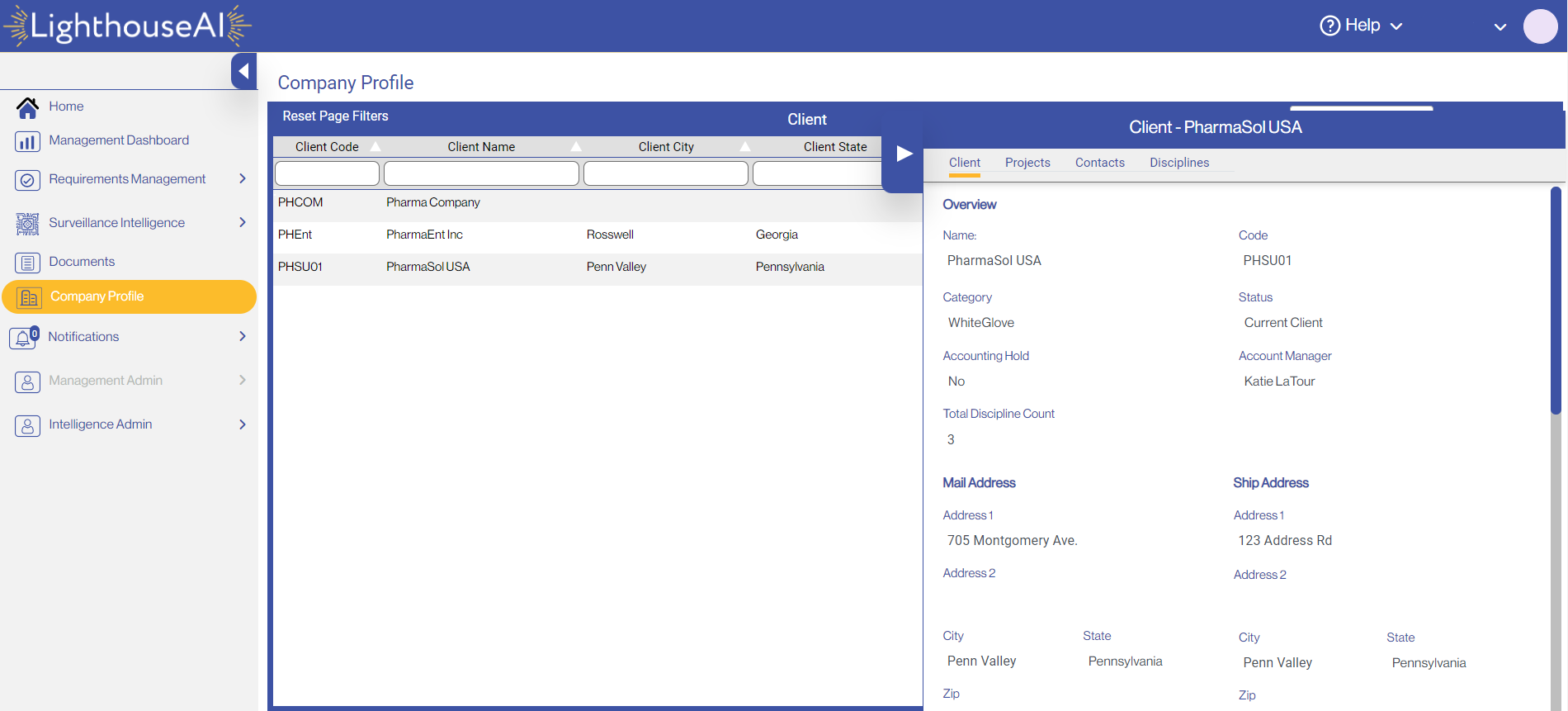 Company Profiles
Company and vendor profiles create a data repository of important information for your facilities related to contacts, clients, projects, and discipline information.
LighthouseAI
Helping Clients Automate Compliance Objectives
What Are People Saying About LighthouseAI?
"Regulations are just impossible to keep up with. At best, the solution used to be an Excel file to muddle through. I am excited about LighthouseAI."
Director of Compliance for one of the nation's largest pharma wholesalers
"Love that you are making this because it is badly needed. We need better tools and we need them now."
Director of Regulatory Affairs for multi-billion-dollar Pharma Manufacturer
"There are so few tools to assist us. LighthouseAI will help us avoid non-compliance fines as severe as $10,000 a day."
Compliance Director for one of the nation's largest regional healthcare distributors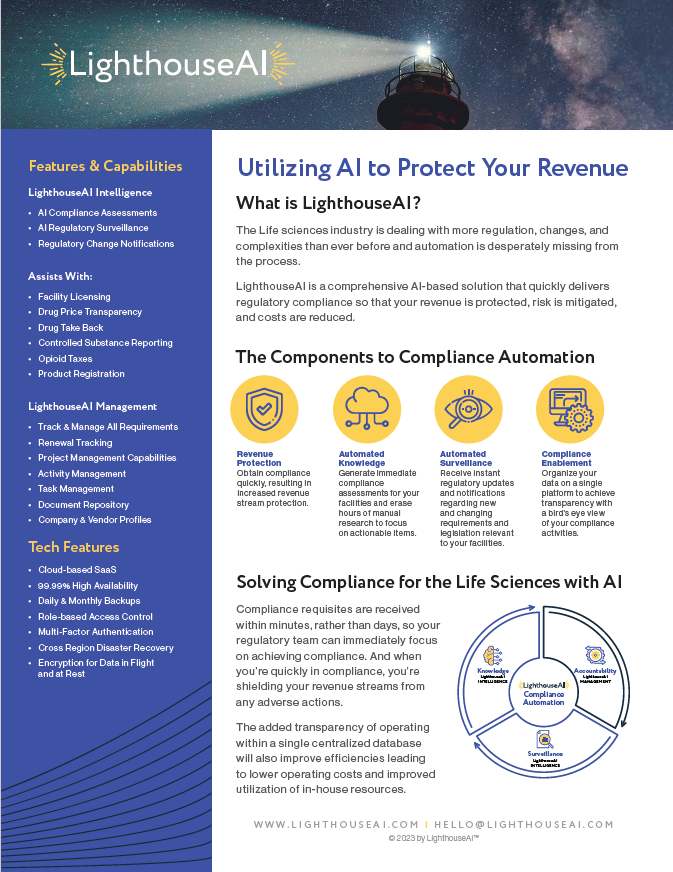 Product Overview One-pager
Automation implementation is the key to cost reductions.
LighthouseAI™ implements automated processes to greatly reduce the time, money, and resources applied to the compliance process by quickly and accurately identifying the requirements issued by state and federal agencies.

Download the one-pager to learn how automation reduces your cost of compliance by:
Preventing non-compliance events which cause revenue disruption 

Increasing compliance research accuracy and reducing human error 

Automating regulatory requirement assessments for your facilities

Automating surveillance of new regulatory and legislative changes
Download the one-pager now!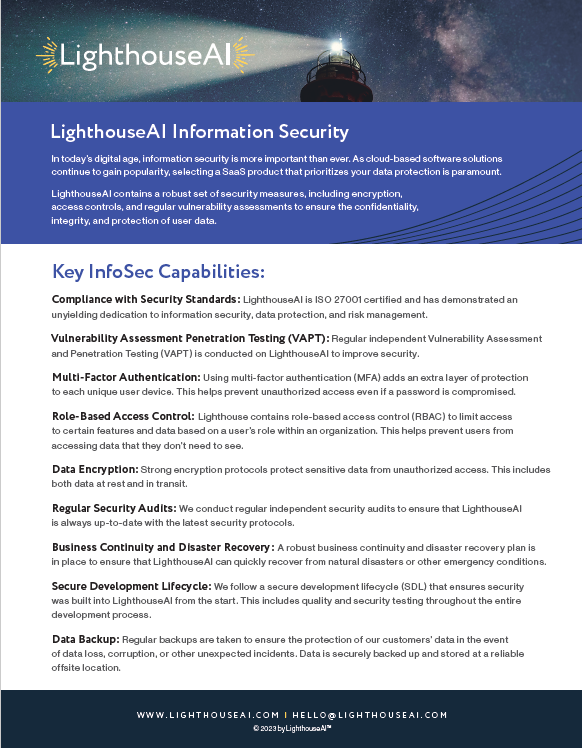 Information & Data Security One-pager
Your data and information is secure with LighthouseAI.
LighthouseAI contains a robust set of security measures, including encryption, access controls, and regular vulnerability assessments to ensure the confidentiality, integrity, and protection of user data.
LighthouseAI™ is ISO 27001 certified and has demonstrated an unyielding dedication to information security, data protection, and risk management:
Vulnerability Assessment Penetration Testing (VAPT)
Multi-Factor Authentication
Role-Based Access Control
Data Encryption
Business Continuity and Disaster Recovery
Data Backup
Download the LighthouseAI Information Security one-pager to learn more about our commitment to secure data.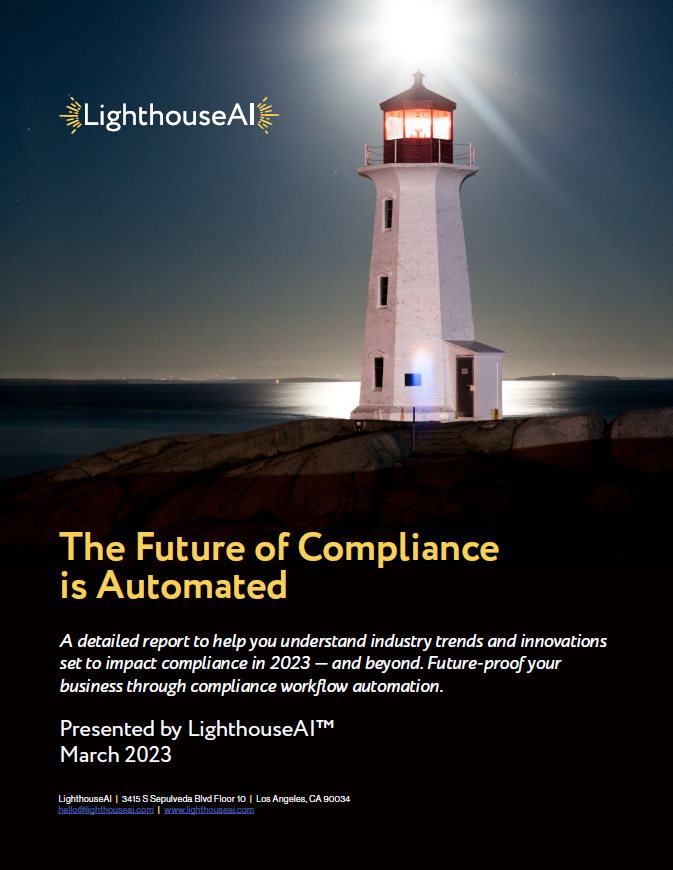 The Future of Compliance Is Automated
Compliance solutions that embrace automation are critical to protecting revenue, mitigating risk, and reducing costs.
LighthouseAI™ leverages artificial intelligence to automate compliance research and regulatory surveillance while providing a means to track and manage state and federal requirements.
In this whitepaper, you'll learn how automation changes everything you know about compliance today, including:
Emerging technologies and their application to compliance 

What is RegTech? What role RegTech plays in compliance 

How compliance automation is the best path forward 

How LighthouseAI delivers on compliance automation
Download the whitepaper now!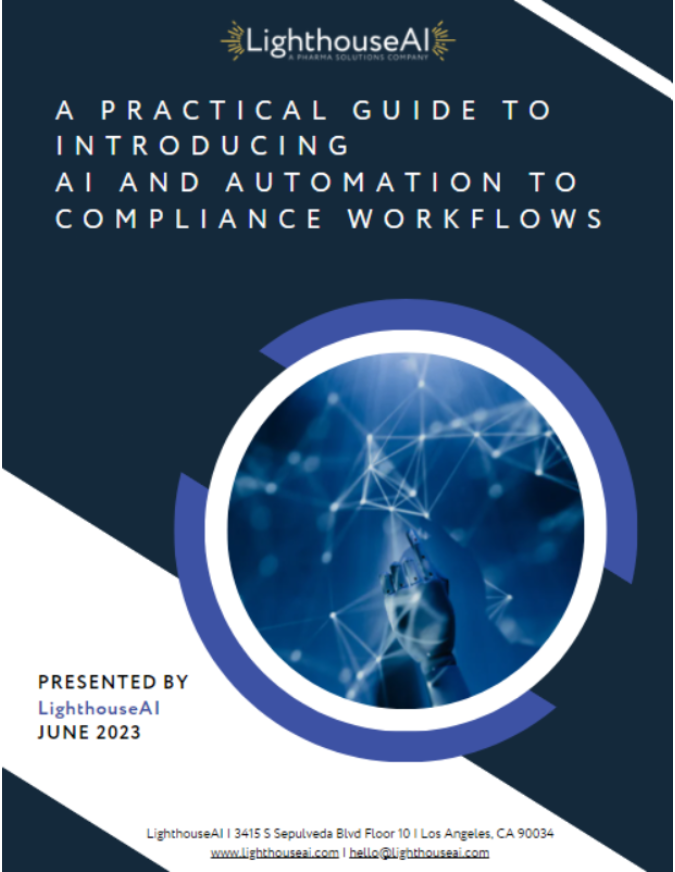 A Practical Guide to Introducing AI & Automation
Reduce Compliance Stress with Automation.
The compliance landscape is constantly evolving. This NEW Whitepaper shows you how to keep up with automation while staying orgainized. 
LighthouseAI™ utilizes automation to guard against non-compliance by providing you with:
Relief from constantly adapting to compliance changes 

Reduced strain from non-compliance risks 

Peace of mind by minimizing errors due to workload pressure

Reduction in compliance maintenance time & costs
Download the Practical Guide to Introducing AI & Automation Whitepaper now and learn how to reduce compliance stress with automation.