LighthouseAI Is Compliance Automation 
LighthouseAI™ is an AI-powered SaaS solution designed to automate compliance processes,
 safeguard your revenue, mitigate risks, and minimize costs.
Revenue Protection
Compliance is achieved in minutes, not days, resulting in the protection of your revenue stream from any adverse actions.
Automated Knowledge
Generate immediate compliance assessments for your facilities and erase hours of manual research to focus on actionable items.
Automated Surveillance
Receive instant regulatory updates and notifications regarding new and changing requirements and legislation relevant to your facilities.
Compliance Enablement
Organize your data on a single platform to achieve transparency with a bird's eye view of your compliance activities.
LighthouseAI Suite
Revolutionary AI
Approach to Compliance
LighthouseAI provides two integrated compliance modules
for rapid research and efficient management. LighthouseAI
Intelligence determines requirements, while Management
assists in executing activities.
Mitigate Compliance & Commercial Risk

Protect Revenue, Reduce Cost, Save Time

Deterministic AI that Replaces Manual Processes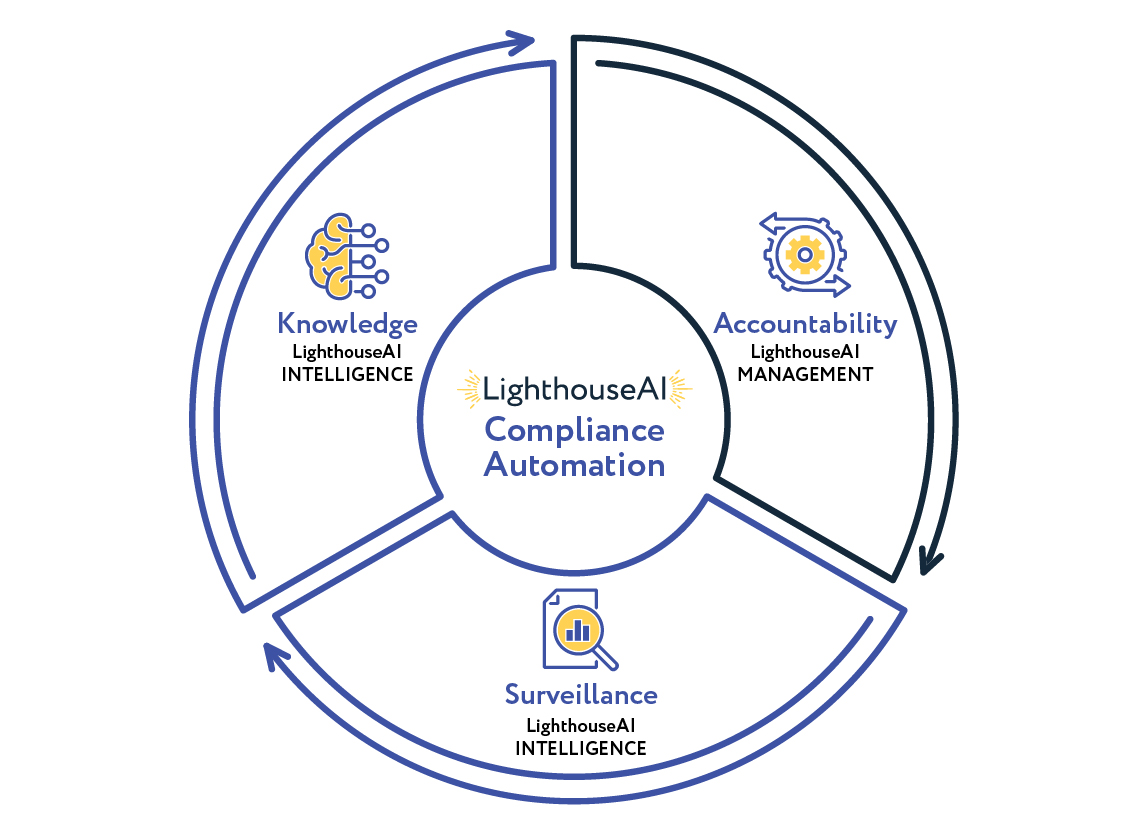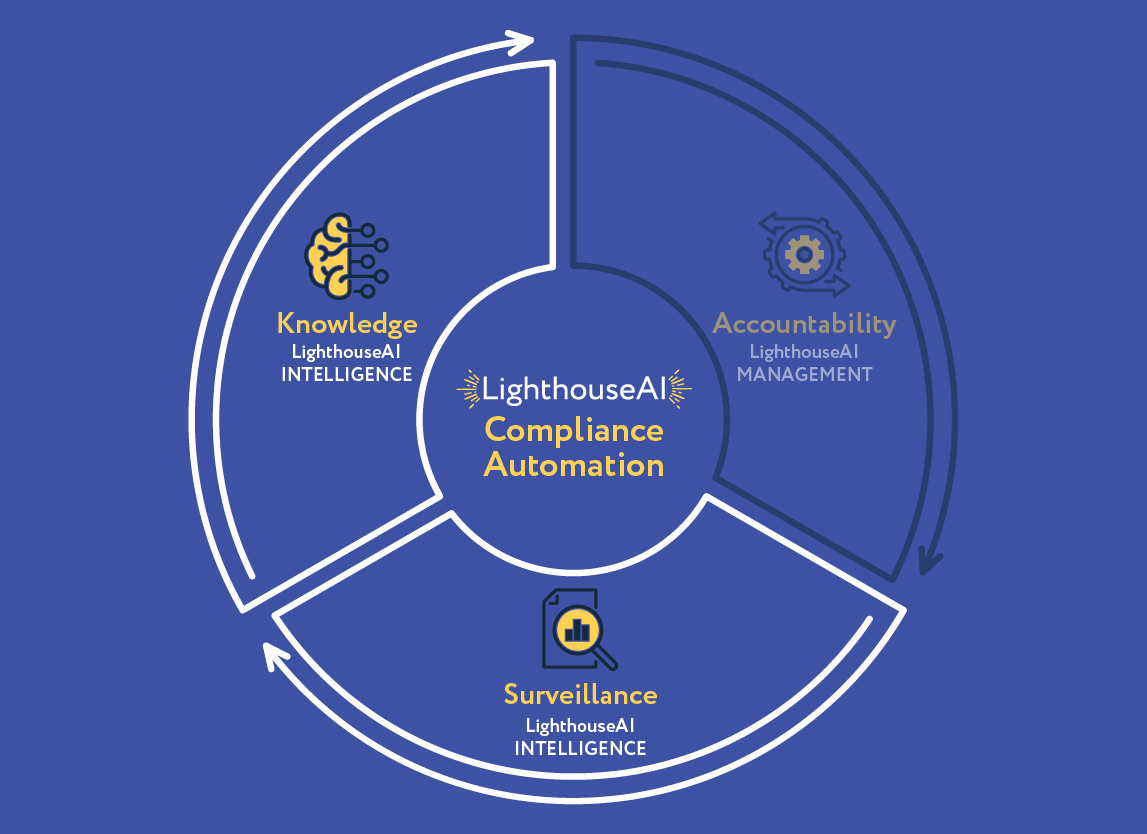 LighthouseAI Intelligence
Rapid Compliance Intelligence
LighthouseAI Intelligence uses AI to perform assessments across all state and federal jurisdictions, then automates regulatory surveillance by tracking, detecting, and notifying clients of changes to compliance requirements that apply to each of your facilities.
Instant Initial and Gap-Analysis Assessments
Keep Up with the Dynamic Regulatory Landscape
Flexible Solution Accommodates Your Evolving Business
LighthouseAI Management
Efficient Activity Management
LighthouseAI Management is a centralized database that houses all compliance data, requirements, documents, and tasks. Increased organization of activities enables transparency and accountability.
Transparency Into All Activities for Regulatory Adherence
Single Source of Truth for Entire Compliance Portfolio
Reduce Risk of Financial Penalties & Disciplinary Actions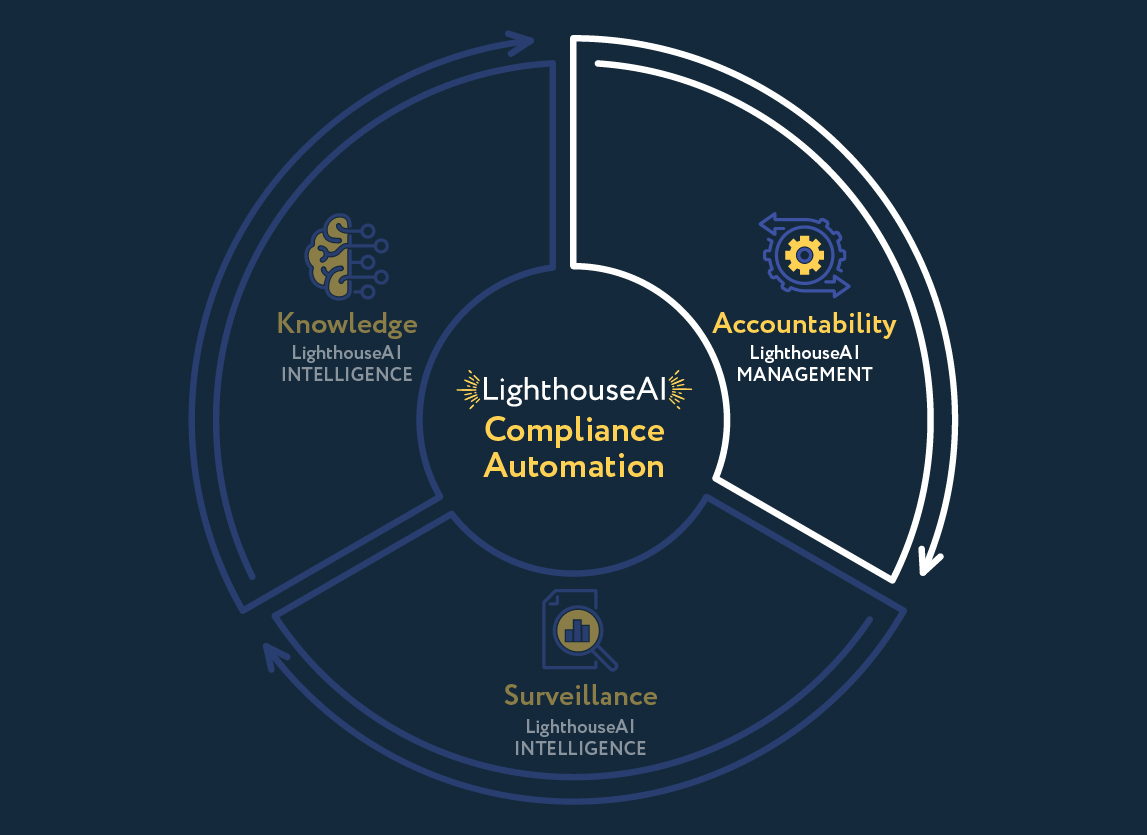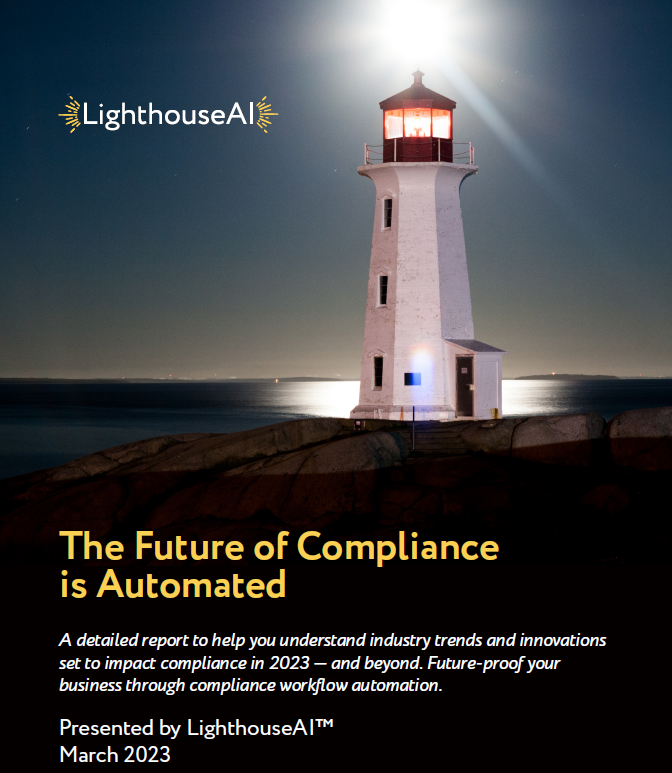 The Future of Compliance Is Automated
Compliance solutions that embrace automation are critical to protecting revenue, mitigating risk, and reducing costs.
LighthouseAI™ leverages artificial intelligence to automate compliance research and regulatory surveillance while providing a means to track and manage state and federal requirements.
In this whitepaper, you'll learn how automation changes everything you know about compliance today, including:
Emerging technologies and their application to compliance 

What is RegTech? What role RegTech plays in compliance 

How compliance automation is the best path forward 

How LighthouseAI delivers on compliance automation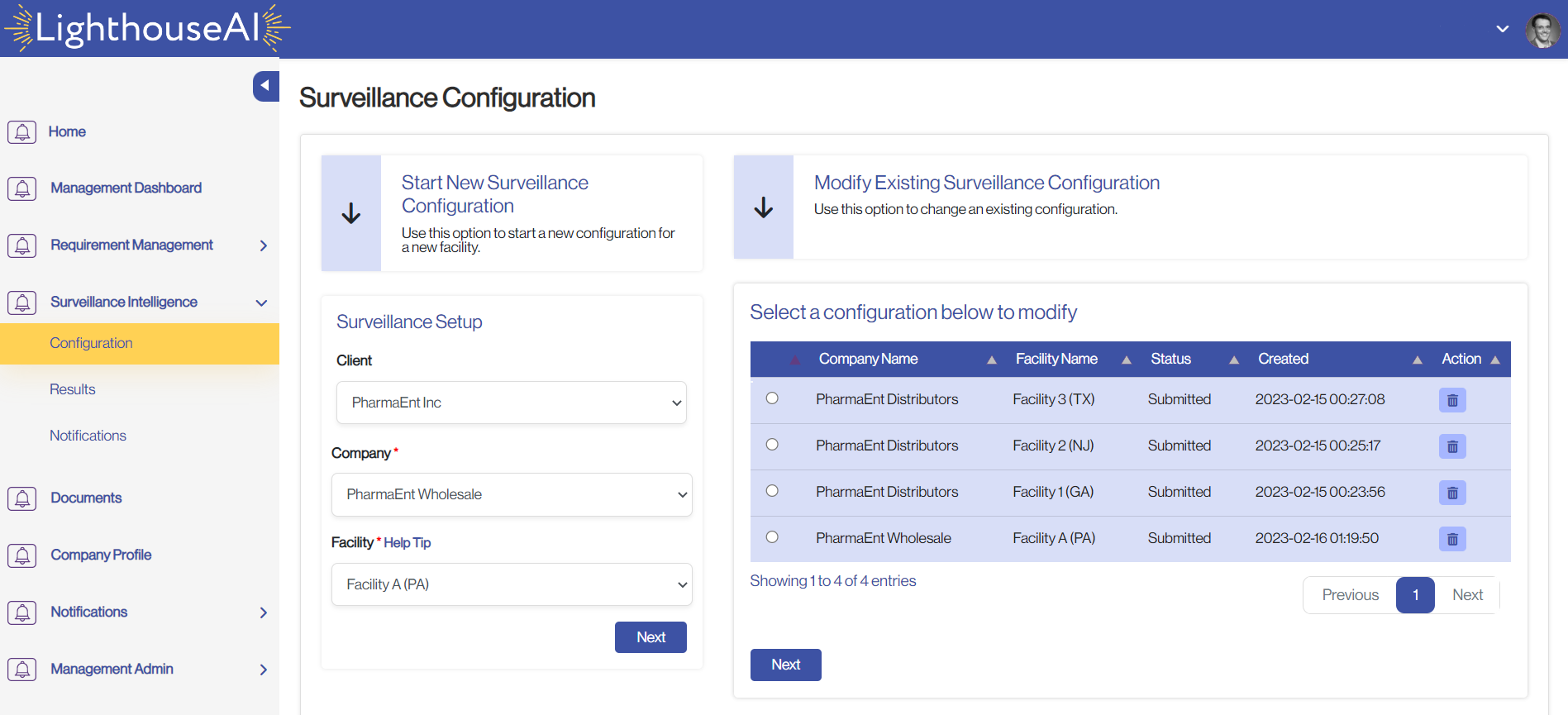 Intelligence Knowledge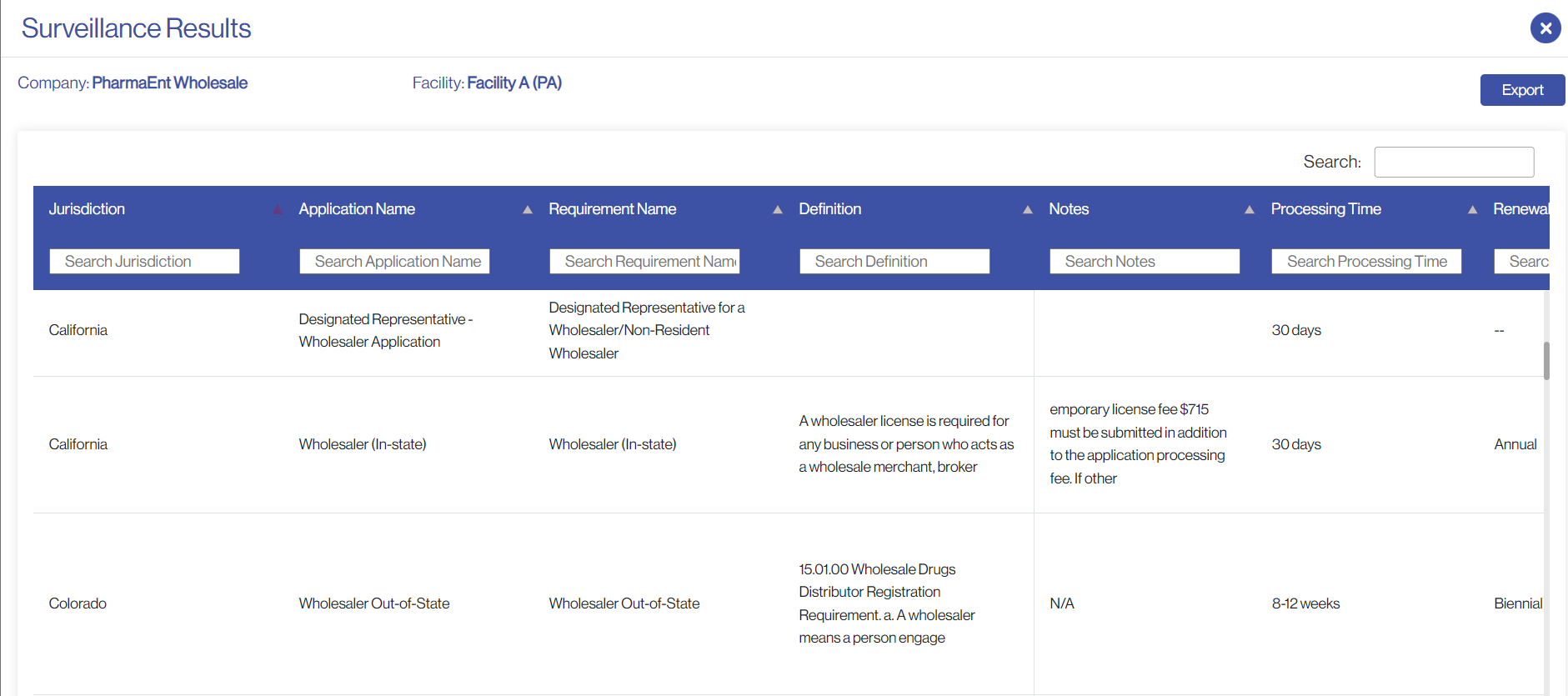 Intelligence Surveillance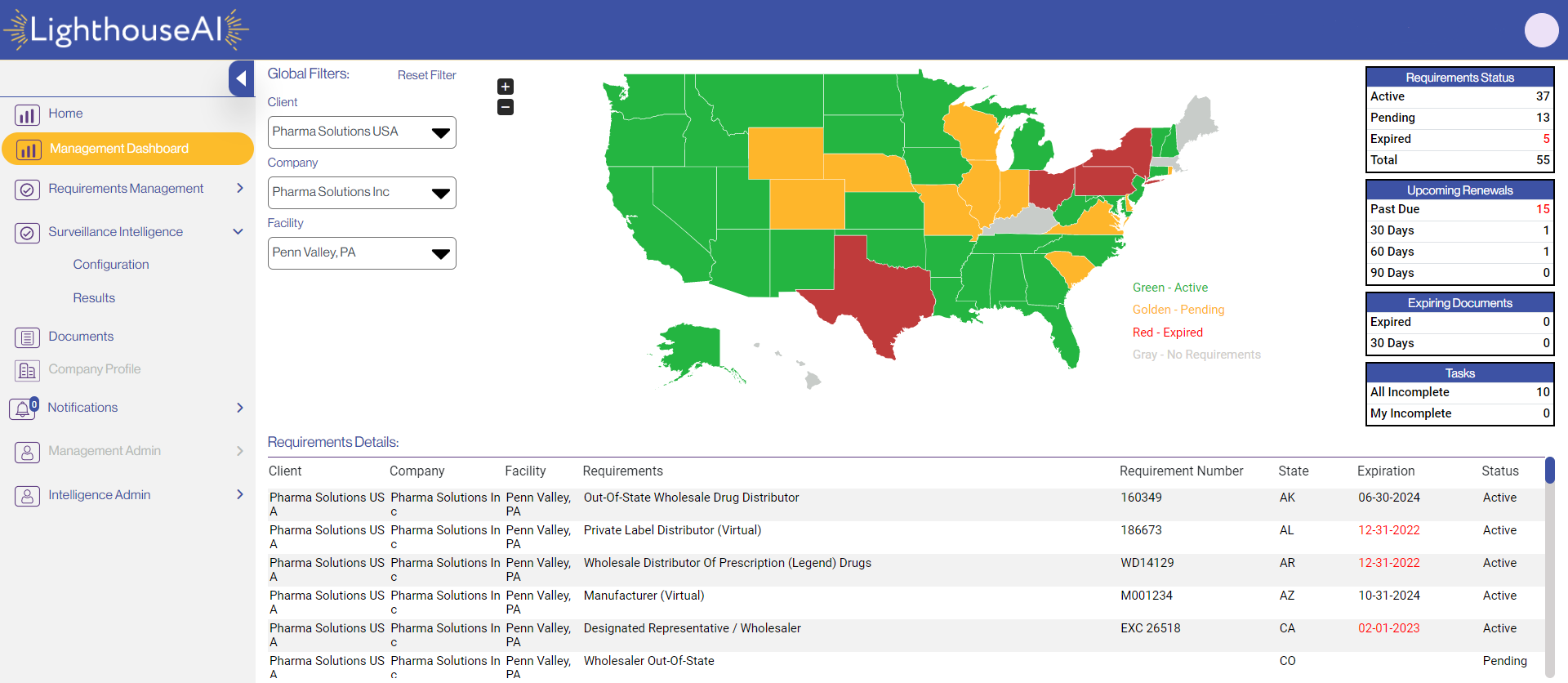 Management Enablement
Drug Manufacturers
LighthouseAI can assist pharmaceutical drug manufacturers track and manage facility licensing, product registration, drug price transparency reporting, drug takeback, opioid taxes, 3PL license verifications and more.
Wholesale Drug Distributors
LighthouseAI can assist wholesale drug distributors track and manage facility licensing, renewals, legal and operational requirements, DSCSA and FDA Proposed Rule licensing changes, and more.
Third-Party Logistics Providers (3PL)
LighthouseAI can assist third-party logistics providers track and manage facility licensing, renewals, legal and operational requirements, DSCSA and FDA Proposed Rule licensing changes, and more.
See LighthouseAI In Action
Let us show you how leveraging AI will elevate your compliance.
Complete the form to schedule a demo.
Protect Revenue, Reduce Risks and Costs Associated with Compliance

Automate Your Compliance Research.
Run Instant Compliance Assessments.
Receive Automated Regulatory Notifications.
Centralize Compliance Data to One Platform.
Track & Manage All Compliance Requirements.
Store Important & Sensitive Documents Securely.